Speedcat OG Sparco Sneakers
$100.00
PRODUCT STORYBorn for speed. Raised in style. The Speedcat returns 20 years later for its second season, backed by motorsport legends Sparco. In 1999, PUMA partnered with Sparco to bring the very first model, designed to bring track style to the s...
shopping_cart Buy Now
Max Factor Facefinity All Day Concealer 60
$18.00
Achieve flawless, long-lasting coverage with the Max Factor Facefinity All Day Flawless concealer. It gives a medium to full, buildable coverage that instantly helps brighten the complexion and stays fresh all day. It's touch-proof and oil-free. The formula, Flexi-hold™ advanced technology provides a long-lasting flawless coverage that moves with skin all day and feels lightweight. Used under eye, it conceals dark circles and reduces the appearance of fine lines and wrinkles for a firmer and brightened look. Used on the complexion, it hides imperfections, creates a poreless effect and effectively covers skin discolorations and hyperpigmentation for an instant perfect coverage that lasts all day. It is easy to build and it perfectly glides and fuses with skin for a quick application.Apply under eye to hide dark circles and get a lifted, brightened look. Can also be applied on blemishes, redness, skin discoloration and hyperpigmentation to create a poreless effect and a flawless complexion that lasts all day.
shopping_cart Buy Now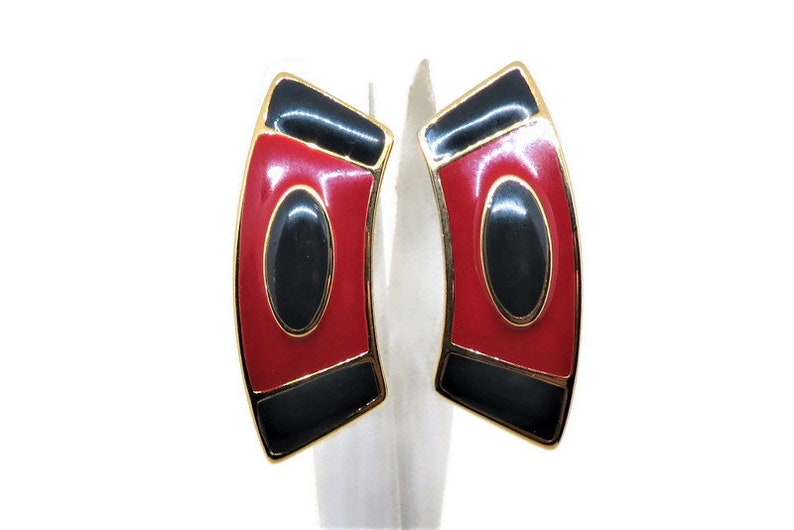 Red and Black Earrings - Vintage, Gold Tone, Red and Black Enamel Finish, Pierced, 1980's, Color Block
US$ 22.00
These amazing vintage color block earrings, are crafted from a gold tone metal in a curved pattern. They are finished in red and black enamel. They are designed for pierced ears. They are in excellent vintage condition.Dimensions 1 5/8" x 5/8"Thank you for visiting my shop. I am happy to provide combined shipping at one low, flat shipping rate, regardless of the number of items purchased. If you have any questions, please let me know. Your satisfaction is my top priority.Discover more vintage jewelry. Sales Happen - Check back often to take advantage of these spontaneous events.
shopping_cart Buy Now
Sports Research Sweet Sweat Premium Waist Trimmer (Pink Logo) for Men & Women ~ Includes Free Sample of Sweet Sweat Gel!
$20.95 - $47.41
GET YOUR SWEAT ON: The Sweet Sweat Waist Trimmer is designed to enhance your workout by helping to improve thermogenic activity and SWEAT! FREE Bonus: Includes breathable carrying bag and a sample of our bestselling Sweet Sweat Gel. Use Sweet Sweat along with the Trimmer to help maximize your results.* CONTOURED & FLEXES FOR CUSTOM FIT: The Sweet Sweat Waist Trimmer is naturally flexible to adjust to your size and shape and contoured to fit around your waist comfortably during exercise. Please note - Waist Trimmer should be worn loose enough to provide a full range of motion during your workouts. PREMIUM QUALITY: Made with extra thick, latex-free Neoprene for an enhanced sweating experience. But don't worry about the extra Sweat, our Waist Trimmer's grid inner lining will not only repel moisture absorption but also limit slipping and bunching during your workout. NOTE: Our Waist Trimmers run LARGE. Please order a size down if you are unsure of what size to order.
shopping_cart Buy Now
Scuderia Ferrari Future Kart Cat Men's Shoes
$75.00
PRODUCT STORYTwo motorsport icons come together in the Future Kart Cat. The sleek silhouette of the Future Cat combines with the stitching design details of the Kart Cat in this versatile low-profile shoe. This version comes with special edition S...
shopping_cart Buy Now
Max Factor Facefinity All Day Flawless Foundation Deep Bronze
$25.00
Perfect your base with the Max Factor Facefinity All Day Flawless Foundation. Featuring a matte finish, full coverage and 24-hour wear, this is a 3 in 1 is a liquid foundation for a long-lasting and flawless finish. It's water-proof, touch-proof, sweat-proof, tear-proof and oil-free. The formula, Flexi-hold™ has advanced technology that provides a long-lasting flawless coverage that you'll find moves with skin all day and feels lightweight. The primer provides a smooth base and holds make-up in place while the concealer effectively covers imperfections, dark circles and reduces the appearance of pores, giving you a flawless look. Built-in primer and concealer. Apply with a foundation brush or your fingertips to deliver a perfect flawless coverage to your skin. You can build concealment by smoothly adding product in areas where you need more coverage.
shopping_cart Buy Now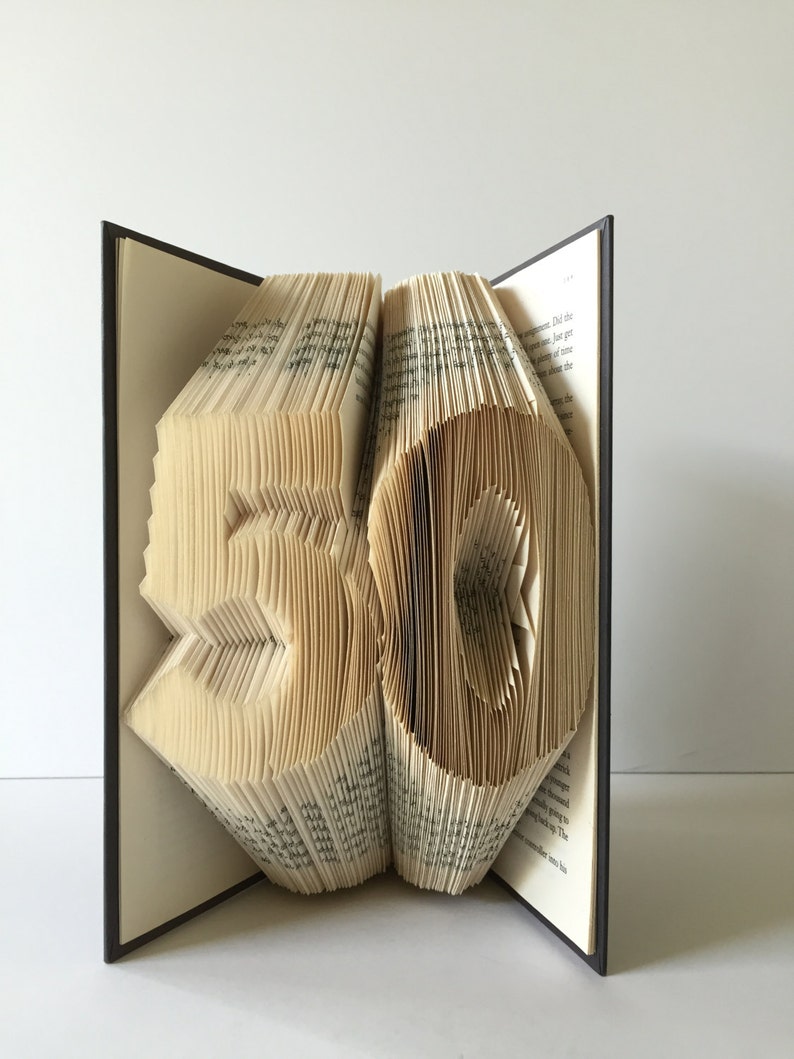 50 Book fold 50 sculpture Folded book art Paper anniversary 50 year old Party decoration Table centerpiece Birthday Gift Origami book art
US$ 65.00
This is a great number 50 book fold! This book fold would make a great 50th birthday gift. It could be a centerpiece for a birthday or anniversary party. You could decorate in your home on a table, bookshelf or mantel. This book would treasure forever! If your having a hard time finding a gift for a friend or family member, this could be the gift! I love turning recycled books into something new and unique that will be treasured forever. Each book is made carefully by folding individual pages of a book to form a word, image, number. Anything is possible!I can work with you on a custom order to create books you will treasure forever. Please convo me and we can talk about it.As a bonus to you, I will include a book cover and ribbon. Book cover colors: red, green, aqua blue, orange, pinkRibbon colors: red, green, blue, yellow, pink, lavender, purpleHolidays, Wedding and Happy Birthday ribbonsMessage me the colors you would like.Perfect for any occasion! Birthdays, Holidays, Weddings, Baby Showers etc. It will surely grab everybody's attention!It looks great on a table or accent your bookshelf.Because every book is completely handmade from recycled books, they may vary slightly from piece to piece.Book Fold Art will be created, packed and shipped within 2 weeks of payment via USPS.Thank you for taking the time to look at my work.
shopping_cart Buy Now
Gaiam Essentials Yoga Block (Set of 2) - Supportive Latex-Free EVA Foam Soft Non-Slip Surface for Yoga, Pilates, Meditation
$10.99
STABILITY + BALANCE: Yoga blocks provide the stability and balance needed in your practice to help with optimal alignment, deeper poses and increased strength DURABLE SUPPORTIVE FOAM: These lightweight and supportive foam blocks are constructed of a durable foam with a nonslip surface and beveled edges for easy gripping. Premium blocks are 50% denser than standard EVA blocks MODIFY + ALIGN: Use under your hands, feet or seat (meditation) to ensure the proper alignment needed in order to safely support and modify poses to suit your level of flexibility If you feel tight, don't risk injury and grab a block or two EXTEND + DEEPEN STRETCHES: Blocks make for the ideal yoga prop and companion, as they are an important tool in your practice to help extend, support and deepen your stretches while also working to increase your range of motion CARE INFO: Spot clean with mild detergent - towel or air dry (Dimensions: 9 inches W x 6 inches H x 4 inches D / Weight: 4.6 Ounce) Sold as 2 Pack
shopping_cart Buy Now