Plush Puppies Kyjen Invincibles 3 Squeak Snake (Assorted)
$4.56
OVER 5 MILLION SOLD: With over 5 million of these Invincibles sold (and counting) these popular squeaking snakes keep dogs coming back for more! CAN'T STOP THE SQUEAKING: Packed with our bestselling Invincibles Squeakers, the Outward Hound Invincibles Snakes Keep Squeakin' If Punctured. NO STUFFING MEANS NO MESS: Free from all the extra fluff, we crafted these crazy-eyed characters with the thing dogs love the most: SQUEAKERS! Without the extra stuffing, your dog can shake, tug and play harder with squeakers that were made smarter. TOSS AND TUG TOGETHER: The Invincibles Snake from Outward Hound features NEW Chew Shield Technology construction and super strong seams that keep you and your pup pulling and playing longer. A lightweight construction also works great for toss & fetch indoors and out! THE RIGHT SIZE FOR FUN: These shakable snakes are available in 3 different sizes: large (contains 3 Invincibles Squeakers) extra-large (contains 6 Invincibles Squeakers) and EXTRA EXTRA large packed with 12 Invincibles Squeakers! STRONGER BINDING FOR MORE BITING: You spoke and we listened; we made the binding on these Outward Hound Invincibles soft snakes stronger, so your dog can chew longer!
shopping_cart Buy Now
share Share
Classics Women's Tight Top
$30.00
PRODUCT STORYThe slim fit of this classic top allows for plenty of room to move, while the cotton base makes for a lightweight, breathable feeling all day. Subtle contrast detailing at the sleeves and classic PUMA branding make this top perfect fo...
shopping_cart Buy Now
Taupe Lace Up Sandals
$55.00
We're crushin' on these lace up heels girl. Featuring a faux suede material, cross strap design and lace up detailing, style with your weekend dress to complete the look.
shopping_cart Buy Now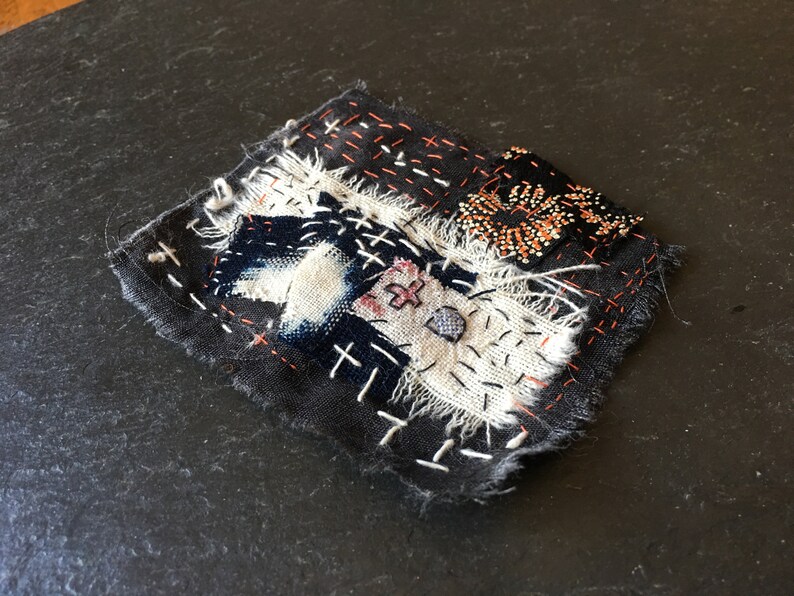 3x2.5" Textile fabric assemblage art mending patch Japanese boro spilt rice sashiko slow stitching hand mend embroidery raw applique cotton
US$ 24.99
CONDITION: I just made this patch from the left over scraps from the patches in photo 5 during the last week of July. It has 8 scraps hand stitched into a collage using orange, black and off white threads. It has black stitched spilt rice sashiko on the beige areas which, for me is a practice in patience. The rest is free form kantha and sashiko stitching. This piece has a lot of tiny stitching and took a long time. It was a practice mending piece in matching up other cut pieces to make others look whole again. MENDING WAYS STORY: For example, the rice on nori kasuri piece in the upper left hand corner has been carefully appliqued with some edges turned under, but most of the rest is raw edged and the fireworks at the lower right hand corner are two pieces I happened to find that makes the explosion seem to be whole. I live in the part of Los Angeles where fireworks go on for the whole month of July and the nigiri or rice on nori (seaweed) remind me of childhood beach days spent on the 4th of July playing with all my family. Thankfully it's August now and the fireworks have since stopped. I also practiced spilt black rice sashiko, which for some reason is very difficult for me to make it look like spilt rice. Slow stitching helps me stay in the present, so I am not crying over spilt rice!FREE DOMESTIC SHIPPING: includes USPS first class mail with tracking and insurance.PHOTO 5: are smaller patches, which I'm tempted to sew all 4 of them together. Listed below in this shop here: SOLD OUT!PHOTO 6: is a reference for me, most is listed in this shop, the snail reaching for the flower is at our other shop with lots more textile art link below:PHOTO 7: More patches like spilt rice patches because they use the same fabrics, but with more water pool sashiko and some with holes:PHOTO 8: Numbers 1 and 2 patches are still available in this shop here:PHOTO 9: Patches made with kasuri, katazome and shibori at our other shop Hoarder Rehab here:LAST PHOTO: is from doing my best to get into the Christmas season and my latest work from Dec. 2019 available in this shop here:INTERNATIONAL SHIPPING: If you think shipping is too high for your country, please Etsy email us with your address and items desired and we will calculate shipping to you. The price we have listed is an estimate to the most remote country and city from the west coast of USA and includes insurance, but not tracking. We will gladly calculate other shipping options to you, if you Etsy email us your postal code, country and city of destination or you can just order and we will refund any overages of $2. We have 4 other shops and from my past experience we have had several items go to remote cities in countries far from postal service and it cost a lot!FROM HOARDING to MENDING WAYS! Mending has become my alternative to hoarding and I've been mending my own clothes for 5-7 years now, so it seems to have stuck. I still am a recovering hoarder and slip up a lot, but most of my time now is spent making these patches and other embroidery items, instead of spending most of my waking hours window shopping, thrift shopping, buying massive amount of items for projects that only seem to stay in my head and then trying to find a spot for them! If you enjoy raw edges, tattered frayed up, well loved, holey cloth then you've come to the right spot! WELCOME!!!!If there is a story behind the purchase of this item, I'd love to know it! I am collecting these stories, instead of more things, as part of my HoarderRehab therapy and will place it on my blog: The Hoarder Rehab Blog: The Destiny of Things. Thank you in advance for your time, story and pics you wish to share!http://hoarderrehab.blogspot.com/Join me with 540+ Etsy buyers who have helped me with my HoarderRehab and share your story! Thank you for your visit and reading this far!
shopping_cart Buy Now
Hydro Flask Standard Mouth Water Bottle, Flex Cap - Multiple Sizes & Colors
$29.95 - $114.97
Newly produced Hydro Flasks do not feature a registered trademark symbol next to the logo Keeps beverages cold up to 24 hours and hot up to 12 hours when using the lid BPA-free and phthalate-free; 18/8 food-grade stainless steel Small boot fits Standard Mouth Bottles and medium boot fits Wide Mouth Hydro Flask bottles Lifetime warranty
shopping_cart Buy Now
RS 9.8 Core Little Kids' Shoes
$24.99
PRODUCT STORYThe all-new RS 9.8 is inspired by new frontiers and galaxies by people who defy societal rules and the laws of physics. The name RS 9.8 speaks to 9.8 m/s2, which is the approximate speed of gravitational acceleration near the Earths ...
shopping_cart Buy Now
White Diamante Ankle Strappy Sandal
$45.00
Add some sparkle to your look with these strappy sandals doll. Featuring a white material with a diamante ankle strap and zip fastening on the back, wear with your going out attire for a look we are loving.
shopping_cart Buy Now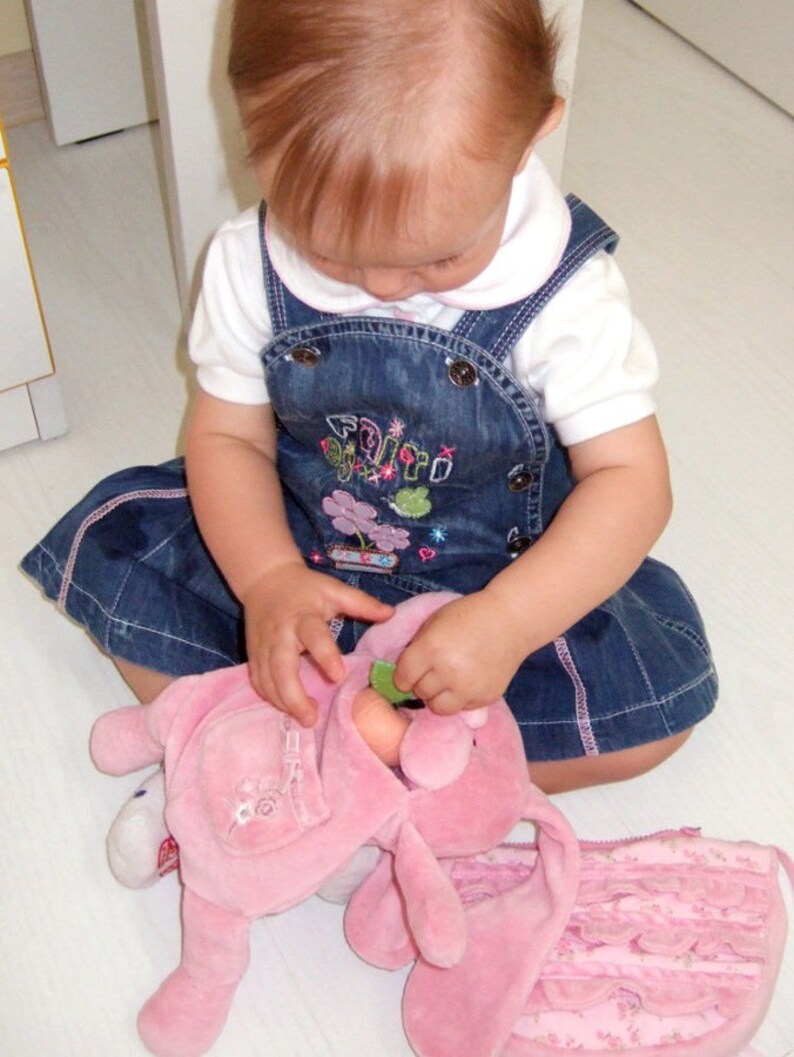 Feed The Bunny, animal feeding, Sensory Educational toy, developmental basic skills, fine motor skill, Pretend Play food, Gift for kids
US$ 37.00
Toddlers love to feed. Bunny has a large tummy :)Animal feeding is an interesting game that develops the fine motor skill of hands and imagination.Bunny and Play food are made of cloth and have a filler holofiber inside.There is a bag-carrots for food.The height of the bunny 9 in (23 ?m) + 6 in (16 cm) is the length of the ears.*Since this is handmade item, every new good may be vary slightly but the overall look will match that shown on the photo.
shopping_cart Buy Now
Gaiam Essentials Thick Yoga Mat Fitness & Exercise Mat with Easy-Cinch Yoga Mat Carrier Strap (72"L x 24"W x 2/5 Inch Thick)
$16.98
FITNESS and EXERCISE MAT: Classic yoga mat is great for all types of fitness and exercise routines including yoga, pilates and any floor exercise where additional cushion and support is appreciated EXTRA THICK YOGA MAT: These 2/5 inch exercise mats make for the ideal all purpose fitness mat in the studio or at home, even around the house under knees or as a standing pad or cushion NON TOXIC and 6P FREE: PVC yoga mat is a healthier choice for you and the planet and free of DEHP, DBP, BBP, DINP, DIDP and DNOP INCLUDES YOGA MAT CARRIER STRAP: Included with your yoga mat is a carrying strap so you can strap up your mat and go DIMENSIONS: 72 inches L x 24 inches W x 2/5 Inch (3.11 pounds)
shopping_cart Buy Now