Outward Hound Stuffingless Gecko Toss and Tug Plush Dog Toy with Invincible Squeakers
$8.99
STUFFING FREE & SQUEAKER FILLED: No stuffing = less mess and more fun. We took out all the extra fluff from these durable toys and stuffed them with what matters most: Invincibles Squeakers! KEEPS SQUEAKIN' IF PUNCTURED: These durable dog toys are filled with Outward Hound Invincibles Squeakers that Keep Squeakin' If Punctured giving you and your dog more fun & extra squeak during playtime. CHEW SHIELD: Dogs just don't like to play, they like to play hard! That's why we made Invincibles Geckos with a Chew Shield layer and strong binding to help keep tough chewers playing & pet parents happy! WARNING:No dog toy is indestructible. Please consider your dog's chewing habits, behaviors, and breed when purchasing any toy. ALWAYS supervise your dog when using a toy of any kind. Inspect toys regularly for damage and remove and replace if broken, or if parts become separated, as serious injury may result. Intended for dogs only. Keep out of reach of children.
shopping_cart Buy Now
share Share
PUMA x RANDOMEVENT Tee
$45.00
PRODUCT STORY Established in China in 2012, cutting-edge streetwear brand Randomevent believes that clothes are more than just clothes they represent your attitude towards life. This classic graphic tee merges graffiti art with one of Randomeve...
shopping_cart Buy Now
PRETTYLITTLETHING Chestnut Embroidered Oversized Hoodie
$40.00
We are obsessing over this hoodie for those chilled days. Featuring a chestnut material with an embroidered PrettyLittleThing logo on the front, we love this style with comfy bottoms for a simple but chilled vibe.
shopping_cart Buy Now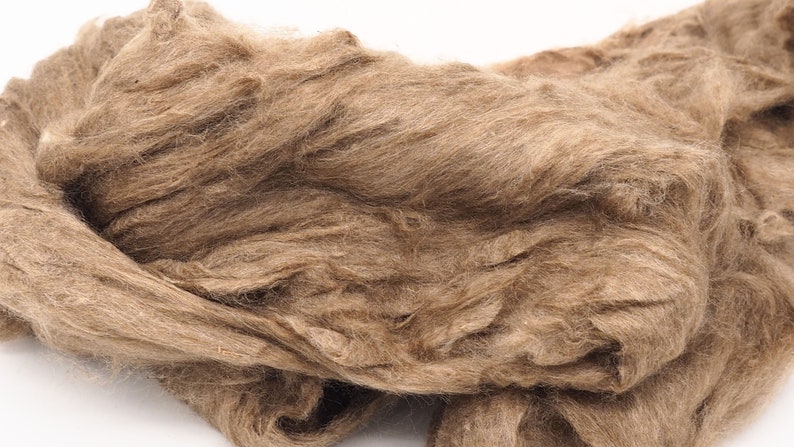 50g Nassi Peduncle Silk Natural Unbleached for Wet Felting, Nuno Felting, Spinning, Weaving and other Craft Projects
US$ 8.50
100% Purely Organic Natural Silk, one of the most unique silk laps from India.Nassi (Peduncle) silk is produced from the stiff stem of the tussah caterpillar cocoons, it has a lovely natural soft brown sheen on its texture. Nassi silk has a shorter fiber length with a softer sheen than most other silks, making it a perfect choice to blend into your wool fibers, especially with darker colors.It is suitable also for adding to felting projects for extra sheen, fine dolls hair, hand spinning fine yarns and weaving.Approx quantity: 50g/1.8ozColour disclaimer: While every effort is made to represent colours accurately, every monitor is different and we cannot guarantee the colours you see exactly match the colours of the actual fibres.====Important Notes====SHIPPING COST - For orders 50USD and up – since Etsy shipping cost calculation sometimes is inaccurate you can contact me for shipping quote. Or you can pay for your order completely and I will return extra shipping by your request.INTERNATIONAL SHIPPING – if YOUR COUNTRY is NOT IN THE LIST please contact me for confirmation and/or shipping quote. If you are ordering from outside of Canada, there might be additional fees/taxes charged by your country. I have no control over this, and payment of these is the responsibility of the purchaser.Just a friendly reminder that a regular parcel by Canada Post could take up to 1-2 weeks for delivery to Canada/US. Please note that a regular mail does NOT come with a TRACKING NUMBER. If you are planning to have it by a specific date I recommend you to upgrade the shipping so it arrives to you on time. Contact me for more details in case you need a tracked/express delivery before paying and I will send you a revised invoice.If your package is returned to me because they attempted a delivery and you were not able to pick it up, I will refund you the amount minus the shipping to you and the shipping back to me.
shopping_cart Buy Now
Alberto VO5 Conditioning Hairdressing for Gray/White/Silver Blonde Hair, 1.5 oz (42.5 g)
$7.49
VO5 Conditioning Hairdressing 1 1/2 Ounce Tube
shopping_cart Buy Now
PUMA x RANDOMEVENT Tee
$45.00
PRODUCT STORY Established in China in 2012, cutting-edge streetwear brand Randomevent believes that clothes are more than just clothes they represent your attitude towards life. This classic graphic tee merges graffiti art with one of Randomeve...
shopping_cart Buy Now
PRETTYLITTLETHING Cream Embroidered Oversized Hoodie
$35.00
Featuring a cream fabric with a 'PRETTYLITTLETHING' slogan front and drawstring hood design, this hoodie is everything we are loving. Style this essential jumper with the matching joggers and complete the look with kicks and chunky socks.
shopping_cart Buy Now
UNDATED GOAL PLANNER for Goodnotes | Digital Planner for iPad | Goal Setting Digital Planner | Habit Tracking |Undated Digital Daily Planner
US$ 17.94
DIGITAL PLANNER FOR IPAD | GOODNOTES PLANNER - NO PHYSICAL item will be shipped. For the Printable planner version, please see this listing: Other Colors AvailableMINT: MAUVE/PLUM: This Digital Goal Setting Planner comes with hyperlinked tabs, multiple monthly, weekly, and daily layouts ready to help you prepare for the most productive year yet.Like the pages of a book, your life is telling a story, each page turned a passing day. Whether it's serving, developing a business, or raising the next generation, your life was meant to make an impact on the world, one day at a time.With in-depth guided questions, habit trackers, and quarterly reviews, the impact goal planner is designed to help you craft and create clear, concise goals.Included in the digital goal planner: - SET OF GOODNOTES PRE-CROPPED STICKERS TO ADD COLOR AND PIZAZZ TO YOUR PLANNING- PNG STICKER SET FOR USE WITH OTHER APPS- 2020 CALENDAR AND BLANK YEARLY AT-A-GLANCE - 2 - MONTHLY AT-A-GLANCE DESIGNS INCLUDES BIRTHDAYS, TOP PRIORITIES, FOCUS, & TO DO- 2 - WEEKLY PLANNER DESIGNS WITH MEAL PLANNING, SHOPPING LISTS, PRIORITIES, & TO DO- 2 - UNDATED DAILY PAGES TO PLAN YOUR DAY. INCLUDES SCHEDULE, CONTACT, TO DO, NOTES, TOP 3, GRATITUDE, & SPACE FOR MEALS AND MORE- LIFE ASSESSMENT & GUIDED LIFE WHEEL ANALYSIS- 5 PAGES OF GUIDED QUESTIONS TO FOR SELF REFLECTION- GOAL PREP PAGES TO AID IN DESIGNING IMPACTFUL GOALS- YEARLY GOALS PAGES- MONTHLY HABIT TRACKERS ON THE TAB FOR EASY ACCESS AND TRACKING- GOAL PROGRESS TRACKING- GOAL CHECKLISTS- NOTES AND BRAINSTORMING PAGES- HOW TO USE GUIDE FOR PLANNER AND STICKERSDUE TO THE SIZE & DETAIL OF THIS PLANNER, IT CANNOT BE UPLOADED TO ETSY. UPON ORDERING, YOU WILL INSTANTLY RECEIVE A FILE WITH THE LINK TO DOWNLOAD YOUR PLANNER AS WELL DETAILED INFORMATION ON HOW TO USE. If you're looking for the printable Goal Planner Inserts, you can find them here: _____________________________________________________________* FOR PERSONAL ONLY *All digital files may only be used for personal use. Designs are copyright._____________________________________________________________Due to the nature of digital products, I cannot offer refunds. However, if you have any questions or issues, I will do everything I can to make sure you are happy with your purchase! Please contact me through convo option and I will work with you until you are 100% satisfied!
shopping_cart Buy Now
VO5 Conditioning Hairdressing Gray or White or Silver Blonde Hair, 1.5 Oz (Pack of 4) by Alberto VO5
$23.85
Alberto VO5 Gray/White/Silver Hair Conditioning Hairdressing
shopping_cart Buy Now