PUMA Club Men's Hoodie
$60.00
PRODUCT STORY Join the club in this classic PUMA hoodie. With a cozy fit and classic design that pays tribute to our signature Formstrip, you'll rep PUMA in true fashion. FEATURES BENEFITS BCI: PUMA partners with Better Cotton Initiative to imp...
shopping_cart Buy Now
Barry M Liquid Chrome Highlighter - Liquid Fortune
$14.00
NEW Liquid Chrome Highlighter Drops give the ultimate intense glow! Use it to brighten the skin and highlight your bone structure for instantly lustrous skin. Formulated with striking pearls to reflect light, use on its own for an intensely radiant highlighting effect or add drops to your favorite foundation for an all over glow. 
shopping_cart Buy Now
Handmade Hand knit From Japanese Noro yarn Cardigan Colourful Volumetric Spiral Motif/ Oversized Plus size/ Knit Natural Wool coat/cardigan
US$ 250.00
•?? ???????? ¸.•´¸.•*¨) ¸.•*¨)(¸.•´ (¸.•` ? ~¤~Welcome to my handmade shop ~¤~? ? ? This listing is Ready to be shipped today! Handmade Hand knit From Japanese Noro yarn Cardigan Colourful Volumetric Spiral Motif/ Oversized Plus size/ Knit Natural Wool coat/cardiganWhen ordering please, include the date you will be needing the cardigan to ensure delivery:)If not maybe we need to change the shipping to express!I made a tutorial on How to Crochet The Volumetric Spiral Motif,https://www.youtube.com/watch?v=hsYxMdxJYSEHere is a wonderful hand crochet cardigan, knit by me is a size XXL. This rich & sophisticated cardigan is super soft. It is a true treasure!DESCRIPTION OF YARN:Noro YarnNamed after its designer and founder, Eisaku Noro, the company is known for its artistic approach to creating yarn and colour compositions. Noro prides itself in doing as much production as possible by hand in order to preserve the natural character of the fibre. Founded over 30 years ago in Japan.These sophisticated colours are truly amazing -- they are true colours! Hand-dyed with permanent, professional acid dyed. Absolutely beautiful and vibrant is richly coloured, deep and wonderful. Colourways of deep-sea blue, golden and plum purple. The colours are so deep and rich, and the yarn itself is soft. DESCRIPTION OF CARDIGAN:This NORO knit and crochet wool Cardigan. I have crocheted with The Volumetric Spiral Motif and knit the sleeves of this cardigan. Knitted using the top-down technique to finish this cardigan. Closes up with 6 buttons I have sewn. After finishing the cardigan I noticed that this yarn has shown up textured stitches amazingly...This item ... like almost every item in my shop... is ready to ship. I photograph everything individually so what you see is the exact piece you will receive. The pictures you see are the exact CARDIGAN you will receive. This means NO wait and NO unwanted surprises.This beautiful sweater, the coat is designed to fit a woman's Large to XX-Large size.Just to be on the safe side I am providing measurement. If you would like me to measure other parts please let me know:)? Laying flat measurement: ?-It measures ~30" from TOP to hem - 15" from underarm to hem. -Sleeves are ~20" from underarm to hem -24" from armpit to armpit,Care:Hand wash, dry flatMade in a smoke-free home.Note: Colors may vary slightly due to monitor settings.Thank you very much for visiting,?(?????)? FOR MORE INFORMATION BEFORE YOU PURCHASE PLEASE, CHECK MY SHOP POLICIES.
shopping_cart Buy Now
Alberto VO5 Conditioning Hairdressing for Gray/White/Silver Blonde Hair, 1.5 oz (42.5 g)
$7.49
VO5 Conditioning Hairdressing 1 1/2 Ounce Tube
shopping_cart Buy Now
PUMA Club Men's Hoodie
$60.00
PRODUCT STORY Join the club in this classic PUMA hoodie. With a cozy fit and classic design that pays tribute to our signature Formstrip, you'll rep PUMA in true fashion. FEATURES BENEFITS BCI: PUMA partners with Better Cotton Initiative to imp...
shopping_cart Buy Now
Barry M That's Swell Plumping Lip Gloss & Scrub Bundle
$15.00
Get gorgeously smooth lips with Barry M's exfoliating sugar scrubs and pump up your pout with Barry M Cosmetics That's Swell Plumping Lip Gloss, a volumising formula that cares for lips. A duo that is perfect together to create a toned, defined and ultra-plumped lip.Lip Scrub: Sucrose, Olea Europaea (Olive) Fruit Oil, Tocopheryl Acetate, Menthol, Mentha Haplocalyx Oil, Crambe Abyssinica Seed Oil, Persea Gratissima (Avocado) Oil, Simmondsia Chinensis (Jojoba) Seed OilLip Gloss: Polybutene, Hydrogenated Polyisobutene, Ethylhexyl Palmitate, Ricinus Communis Seed Oil, Octyldodecanol, Ethylene/Propylene/Styrene Copolymer, Butylene/Ethylene/Styrene Copolymer, Mentha Piperita (Peppermint) Oil, Flavour, Propylparaben, Tocopheryl Acetate, Tribehenin, Sorbitan Isostearate, Palmitoyl Tripeptide-1, BHT.
shopping_cart Buy Now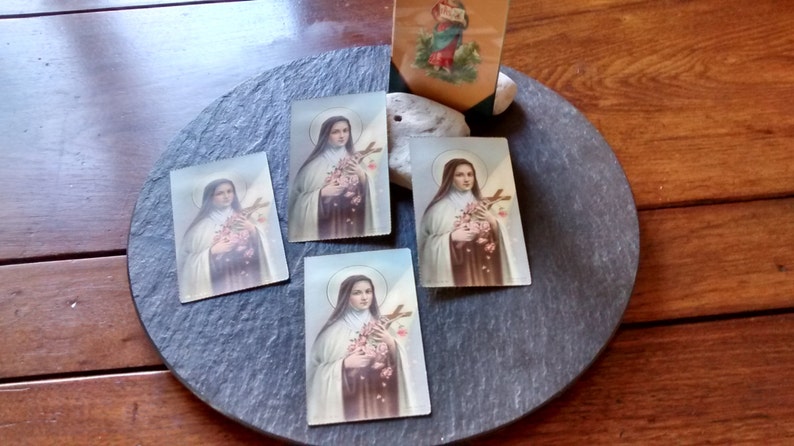 1+ NOS VTG St Therese Lisieux religious Saint Holy prayer gold gilt Italy card nicho ofrenda shrine alter Day of the Dead Los Muertos gift
US$ 1.49+
Choose the amount you need using the option box to the right of the photos or contact if you need more of them. NEW OLD STOCK VTG CONDITION: NEW and UNUSED Saint Therese Holy card with gold gilt edging, halo and cross printed in Italy. Blank on the back. Some have slight storage wear due to age. I will send you the best one.SIZE: a little over 3.75 inches tall by a little under 2.5 inches wide. Gold gilt markings of AR in a circle, Dep G 31, IMPRIME EN ITALIE, IMPRINTED IN ITALY. Zoom in on photos #1-4 to see beautiful details. Last photo shows Immaculate Mary Holy card, which will be listed soon or request it and I will list it asap.DOMESTIC SHIPPING: includes support and USPS first class with tracking and insurance.Sterling Saint Therese religious medal at our other shop Hoarder Rehab here:Saint Therese in silver tone new old stock religious medal at VintageToGoEasy here:NEW Immaculate Mary religious holy prayer blank card at VintageToGoEasy:Information I find interesting about Saint Therese of Lisieux:1. Saint Thérèse of Lisieux (Born Marie-Françoise-Thérèse Martin, January 2, 1873 – September 30, 1897), or Saint Thérèse of the Child Jesus and the Holy Face, O.C.D., was a French Discalced Carmelite nun. She is popularly known as "The Little Flower of Jesus" or simply, "The Little Flower."2. Thérèse has been a highly influential model of sanctity for Roman Catholics and for others because of the "simplicity and practicality of her approach to the spiritual life." Together with St. Francis of Assisi, she is one of the most popular saints in the history of the church. Pope Pius X called her "the greatest saint of modern times."3. Thérèse felt an early call to religious life, and overcoming various obstacles, in 1888 at the early age of 15, she became a nun and joined two of her elder sisters in the cloistered Carmelite community of Lisieux, Normandy. After nine years as a Carmelite religious, having fulfilled various offices such as sacristan and assistant to the novice mistress, and having spent her last eighteen months in Carmel in a night of faith, she died of tuberculosis at the age of 24. Her feast day is on October 1st.4. The impact of The Story of a Soul, a collection of her autobiographical manuscripts, printed and distributed a year after her death to an initially very limited audience, was great, and she rapidly became one of the most popular saints of the twentieth century. Pope Pius XI made her the "star of his pontificate". She was beatified in 1923, and canonized in 1925. Thérèse was declared co-patron of the missions with Francis Xavier in 1927, and named co-patron of France with Joan of Arc in 1944. On October 19, 1997 Pope John Paul II declared her the thirty-third Doctor of the Church, the youngest person, and at that time only the third woman, to be so honored. Devotion to Thérèse has developed around the world.5. Thérèse lived a hidden life and "wanted to be unknown," yet became popular after her death through her spiritual autobiography. She also left letters, poems, religious plays, prayers, and her last conversations were recorded by her sisters. Paintings and photographs – mostly the work of her sister Céline – further led to her being recognized by millions of men and women.Thérèse said on her death-bed, "I only love simplicity. I have a horror of pretence", and she spoke out against some of the claims made concerning the Lives of saints written in her day, "We should not say improbable things, or things we do not know. We must see their real, and not their imagined lives."The depth of her spirituality, of which she said, "my way is all confidence and love," has inspired many believers. In the face of her littleness she trusted in God to be her sanctity. She wanted to go to heaven by an entirely new little way. "I wanted to find an elevator that would raise me to Jesus." The elevator, she wrote, would be the arms of Jesus lifting her in all her littleness.6. Thérèse is well known throughout the world, with the Basilica of Lisieux being the second largest place of pilgrimage in France after LourdesInfo from wikipedia.Hoarder History: I read the The Story of a Soul a little at a time, back in the last 90s from the free library in the waiting room of my chiropractor, but now I can barely remember anything about it. I need to read it again!Please feel free to ask any questions, make an offer, comment, leave feedback, leave info pertaining to this item or request more pics. Before purchasing multiple items, please convo with zip code for shipping costs, especially with combined orders and read shop policies. Most shipping prices quoted are based on USPS first class shipping with tracking or USPS flat rate priority shipping with insurance, the difference will be refunded from the total based on shipping and handling. International shipping and/or insurance available, please contact for more details. Thank you for visiting HoarderRehab's: The Destiny of Things!If there is a story behind the purchase of this item, I'd love to know it! I am collecting these stories, instead of more things, as part of my HoarderRehab therapy and will place it on my blog: The Hoarder Rehab Blog: The Destiny of Things or http://hoarderrehab.blogspot.com/Thank you in advance for your time, story and pics you wish to share!http://hoarderrehab.blogspot.com/Join me with 520+ Etsy buyers helping with my Hoarder Rehab and add your story!
shopping_cart Buy Now
VO5 Conditioning Hairdressing Gray or White or Silver Blonde Hair, 1.5 Oz (Pack of 4) by Alberto VO5
$23.85
Alberto VO5 Gray/White/Silver Hair Conditioning Hairdressing
shopping_cart Buy Now