Outward Hound Stuffingless Gecko Toss and Tug Plush Dog Toy with Invincible Squeakers
$8.99
STUFFING FREE & SQUEAKER FILLED: No stuffing = less mess and more fun. We took out all the extra fluff from these durable toys and stuffed them with what matters most: Invincibles Squeakers! KEEPS SQUEAKIN' IF PUNCTURED: These durable dog toys are filled with Outward Hound Invincibles Squeakers that Keep Squeakin' If Punctured giving you and your dog more fun & extra squeak during playtime. CHEW SHIELD: Dogs just don't like to play, they like to play hard! That's why we made Invincibles Geckos with a Chew Shield layer and strong binding to help keep tough chewers playing & pet parents happy! WARNING:No dog toy is indestructible. Please consider your dog's chewing habits, behaviors, and breed when purchasing any toy. ALWAYS supervise your dog when using a toy of any kind. Inspect toys regularly for damage and remove and replace if broken, or if parts become separated, as serious injury may result. Intended for dogs only. Keep out of reach of children.
shopping_cart Buy Now
share Share
PUMA x HELLO KITTY Girls' Leggings JR
$30.00
PRODUCT STORY Say hello again. PUMA x HELLO KITTY is back for a second season of collaboration. The new collection takes Hello Kittys signature cute, bubbly aesthetic and gives it a streetwise edge. Playful prints, familiar characters and logos, a...
shopping_cart Buy Now
Black Diamante Pouch Bag
$28.00
Need somewhere to store your mobile phone on the next night out? Look no further because this pouch bag has got you covered. Featuring a black diamante material with a cross body strap, you can't go wrong.Approx Height: 18cm/7"Approx Width: 12cm/5"Approx Depth: 8cm/3"
shopping_cart Buy Now
Victorian Whitby Jet Collar Necklace. Carved English Jet Floral Mourning Necklace. Antique Victorian Grand Period Black Collarette
US$ 475.00
An incredible Victorian carved Whitby jet collarette circa 1870. A fine example of mid Victorian "grand period" gothic mourning jewelry which is eminently wearable today. The necklace features glossy black polished jet beads in a beautiful geometric floral design which is both elegant and extremely attractive. The necklace is collar length measuring 22" and lies perfectly flat at the base of the neck. It is 1-1/4 inches wide at the narrowest point with the flower motifs measuring 1-3/4 inches in diameter. It is in superb condition and very well cared for with nary a chip to the jet beads. There may be an old repair near the clasp where the thread has been knotted replacing of the small round beads but it is also possible that the necklace was originally constructed this way. The necklace fastens with a push in hidden brass closure.A rare, eminently wearable, desirable and collectible antique gem!Our shop is located in the historic heart of the former Victorian Whitby jet jewelry industry and all of our jet is sourced locally. At Mercy Madge we offer distinctive and unique estate jewelry in our beautifully curated shop. Each piece is carefully hand selected by us, for you. We rarely come across two identical old treasures, once they are gone, they are truly gone! Browse our shop at ADDITIONAL INFORMATION- Our photographs are taken with a magnified macro lens to show you every tiny detail, flaws and fine scratches are exaggerated and aren't visible to the naked eye, similarly shadows caused by studio lighting can give rise to discolored or dark areas areas that don't exist.- Unless otherwise stated any antique boxes in our photos are for display only and are not included in purchase. However, do rest assured your purchase will arrive professionally packaged in a custom Mercy Madge box, perfect for gift giving and safekeeping!- We offer a no risk money back guarantee, details and return procedures can be found in our shop FAQ and policy sections.- Our international and domestic shipping is free and includes tracking for your peace of mind.
shopping_cart Buy Now
Tumaz Yoga Strap/Stretch Bands with Adjustable D-Ring Buckle (6ft/8ft/10ft, Many Stylish Colors) - Best for Daily Stretching, Yoga, Pilates, Physical Therapy, Fitness
$6.95
??Strap In, Stretch Out? - Tumaz yoga strap is a simple, non-elastic band that provides extra stability and flexibility to stretching, yoga, therapy, workout, and more. ??Just the Best? - 4 mm "Welded" D-ring buckles, 2.5 mm thickness, eco-friendly dyeing, special tight-knit technique, and delicate texture. The best strap you can find in the market. ??A Ton of Safety? - It's literally a ton! With our extra thick and special knit technique, the maximum load of the band is "2,379 lbs (1.079 ton)" in real tests. ??The strap is designed for yoga, exercise, PT using. We do NOT recommend using it for other purposes. ?? ??What's Your Color? - Pick up a color to make your colorful Yoga day! Show your personality and share it with everyone! ??Unmatched Customer Service? - 100% satisfied or fully refunded! Tumaz provides a replacement or refund of ALL products within the 60-day warranty period. No reason needed, no hassle: it's that simple!
shopping_cart Buy Now
PUMA x SOPHIA WEBSTER Girls' Tee
$30.00
PRODUCT STORY PUMA x SOPHIA WEBSTER ventures into the urban jungle for an exotic take on streetwear. PUMA silhouettes show their wild side with vibrant colors, metallic flashes, and hints of animal print for a collection that cant be tamed. This...
shopping_cart Buy Now
Silver T-Bar Chain Necklace
$10.00
This simple chain necklace is perfect for adding to any outfit. Featuring a silver delicate chain with a T-bar fastening, we are obsessed.
shopping_cart Buy Now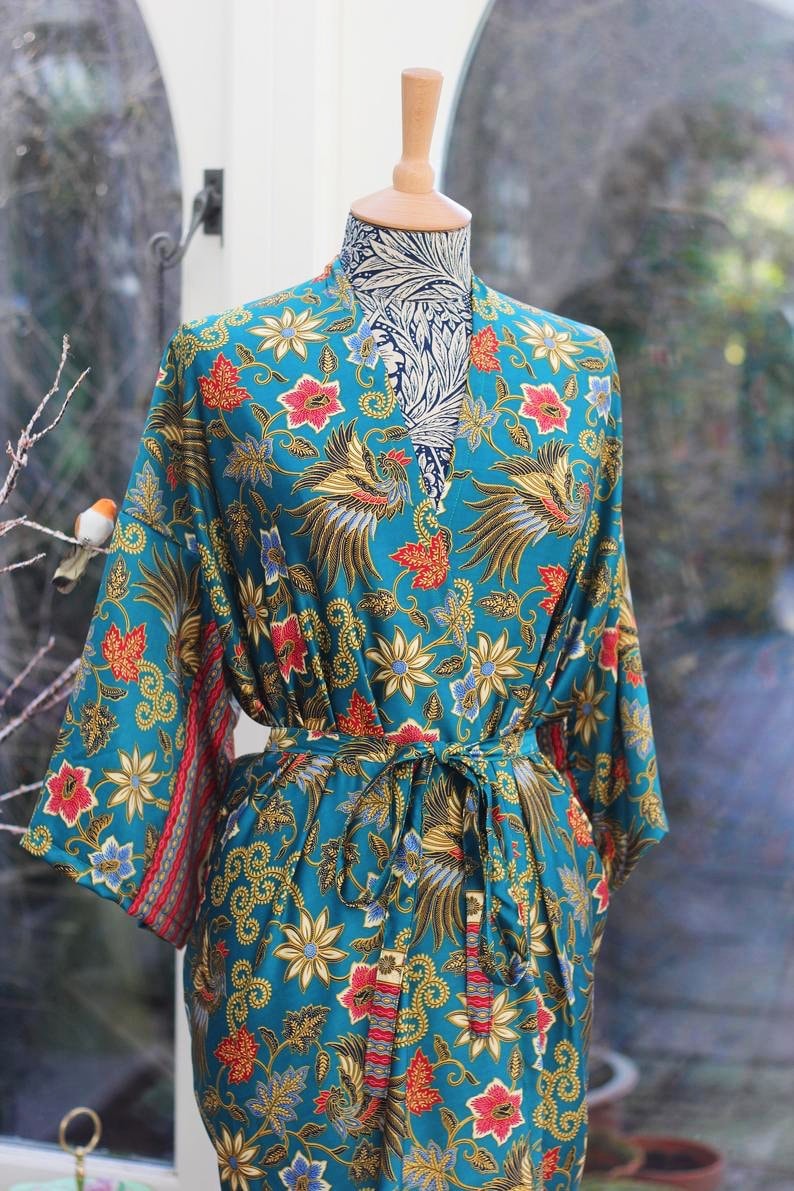 Silk Kimono Robe, Christmas gift, Dressing gown, Vintage silk kimono, Bridesmaid robes, Boho kimono, Bridal Robe, Kimono dress, Mango Moon
US$ 52.45
This listing is for one green silk kimono jacket! (Possibly the perfect Christmas gift? We do offer Christmas gift wrap - Please specify in the notes section when purchasing your kimono.)Our Japanese inspired kimonos are made from a blend of soft Indonesian silk and viscose from Java Indonesia, making it soft and as appealing as silk or satin- with a more affordable price! This unique style of kimono and the delicate pattern on it, makes it perfect for brides or bridesmaids- helping you get ready for your big day- with style and comfort! However, you don't have to get married to wear our kimono- you can wear them at home as pyjamas, wear them to nature festivals, or even style them with leggings or denim to create a semi-formal yet colourful south east Asian cultured look. Designed by Mango Moon and made in the volcanic Island of Bali, these unique Kimono's are beautifully soft on the skin and flattering for all shapes and heights sitting just below the knee.Measurements - Now available in all sizes!Height: 110cmAll kimono's will come with a matching soft silky belt to pinch in at the waist, allowing these pieces to fit all sizes.Shipping time:All MM orders are shipped within 3/5 working days ensuring a speedy arrival. Should you need a last minute 1 day special delivery request, please just message me directly to let me know so I can fix that for you. Please note, our robes are wrinkle free and machine washable. However, a hand washed is recommended due to the delicate nature of the kimonos.BULK/WHOLESALE ORDERS: All our kimonos are made from the same colourful fabric found in Java, Indonesia. Therefore, we can happily make higher quantities of all our robe's should you require this for your bridal/hen party or any bulk gift buying around the holiday seasons. Wholesale - We love the opportunity to work with other business - Mango Moon has teamed up with several retail stores/hotels all over the world in the last year who share the same love for our silky numbers. If you have any questions about purchasing our kimonos for wholesale purposes, please message me directly for further details. Thanks for stopping by and checking out our beautiful balinese kimonos! If you have any questions for me or want to ask me about bulk purchases- please let me know by clicking on the "contact seller" button here, or just reach out to me on Instagram - I'd be happy to hear from [email protected] Xx
shopping_cart Buy Now
Hugger Mugger Para Rubber Yoga Mat (River)
$94.95
Superior, non-slip grip on both sides Natural rubber is durable, and long-lasting 1/4" thickness with excellent cushion and shock absorption Streaked with a blue and green pattern Rubber is a natural, sustainable, renewable material. Ours comes from non-Amazon sources
shopping_cart Buy Now