Pet Qwerks Dinosaur BarkBone with Real Bacon Dog Chew Toy for Aggressive Chewers, Made in USA
$7.34
Pet Qwerks dinosaur barkbone with real bacon dog chew toy offers a variety of comfortable chewing surfaces for aggressive power chewer dogs. Super safe! They're natural looking and feeling. Dinosaur bacon barkbone dog Chews are made from pure nylon and real bacon! The two ingredients are blended into the Most durable, safe and tasty dog Chews! All barkbone components are sourced in the USA! Non-toxic, non-allergenic, FDA-compliant and safe for your dog! Pet Qwerks dinosaur bacon barkbone dog Chews has no artificial preservatives. Giving your dog non-edible bones also massages their gums and provides scraping action on their teeth, much like a dental hygienist descaling the plaque from human teeth. It helps healthy chewing and makes for a more entertaining experience. It discourages destructive behavior when your dog gets bored.
shopping_cart Buy Now
share Share
PUMA x RHUDE AOP Men's Track Pants
$110.00
PRODUCT STORYLA-based ready-to-wear label Rhude brings a dualistic approach to menswear, employing minimalist aesthetics while simultaneously re-contextualizing the streetwear genre. For his first collaboration with PUMA, Rhude Creative Director, ...
shopping_cart Buy Now
Silver Asymmetric Diamante Block Heel Sandal
$45.00
Step into the party season with these glitzy sandals. Featuring a silver patent fabric with diamante detailing and a comfortable block heel, we're obsessed.
shopping_cart Buy Now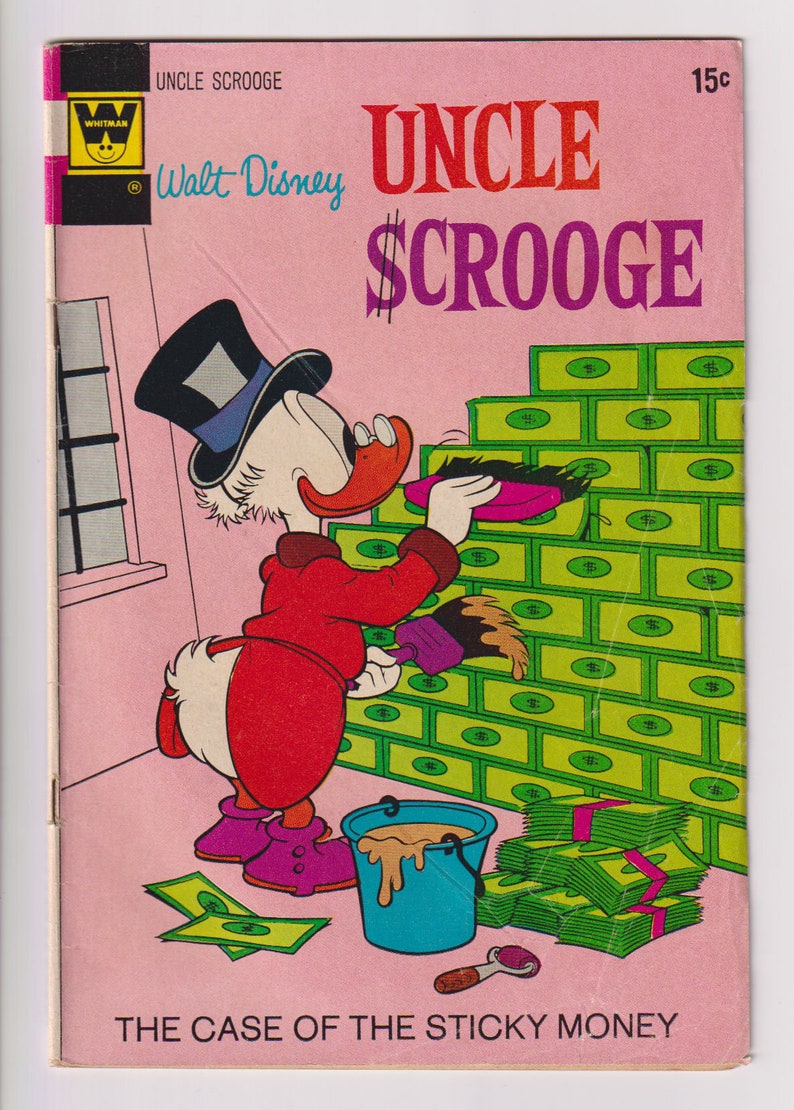 Uncle Scrooge; Vol 1, 99 Whitman Variant, Bronze Age Comic Book. VG (4.0). June 1972. Gold Key Comics
US$ 19.00
Uncle Scrooge 99 only creator credits are Carl Barks. This one is a Whitman Variant. Whitman Variants were rebranded to Whitman, and sold in place like drug stores and general stores in poly bagged 3 - 4 packs. This one has a mix of Disney back up stories beyond the Uncle Scrooge main story that include: Mickey Mouse, Gyro Gearloose, and Goofy.Comic is in VG (4.0) condition. It has gorgeous color and gloss. It has been rolled in the past and then flattened but much of the condition issue from that are non color breaking. There is a series of light creases to the cover. Most are non color breaking and as you get closer to the bottom outside corner they become color breaking through very light. The bottom right corner has a partial chip. The outside edge has minor wear, with a tiny stress tears approximately 1/4 of the way up from the lower corner. The back cover has very slight foxing and a small stress tear to the top edge toward the spine corner. Interior pages are off white, supple, and defect free. Comic lies flat and is tightly attached.Comic has has been bagged, boarded, boxed, and stored in a climate controlled, smoke free environment. I have more Uncle Scrooge in this shop, you can find that here: I have more Disney in this shop, you can find it here:
shopping_cart Buy Now
Sports Research Sweet Sweat Premium Waist Trimmer (Pink Logo) for Men & Women ~ Includes Free Sample of Sweet Sweat Gel!
$20.95
GET YOUR SWEAT ON: The Sweet Sweat Waist Trimmer is designed to enhance your workout by helping to improve thermogenic activity and SWEAT! FREE Bonus: Includes breathable carrying bag and a sample of our bestselling Sweet Sweat Gel. Use Sweet Sweat along with the Trimmer to help maximize your results.* CONTOURED & FLEXES FOR CUSTOM FIT: The Sweet Sweat Waist Trimmer is naturally flexible to adjust to your size and shape and contoured to fit around your waist comfortably during exercise. Please note - Waist Trimmer should be worn loose enough to provide a full range of motion during your workouts. PREMIUM QUALITY: Made with extra thick, latex-free Neoprene for an enhanced sweating experience. But don't worry about the extra Sweat, our Waist Trimmer's grid inner lining will not only repel moisture absorption but also limit slipping and bunching during your workout. NOTE: Our Waist Trimmers run LARGE. Please order a size down if you are unsure of what size to order.
shopping_cart Buy Now
PUMA x JAHNKOY Men's Pants
$200.00
PRODUCT STORYFor her debut collection with PUMA, JAHNKOY brings her signature aesthetic to streetwear silhouettes, reimagining them with artisanal detailing and vibrant patterns. Russian traditional ornaments and folk references remind us that clo...
shopping_cart Buy Now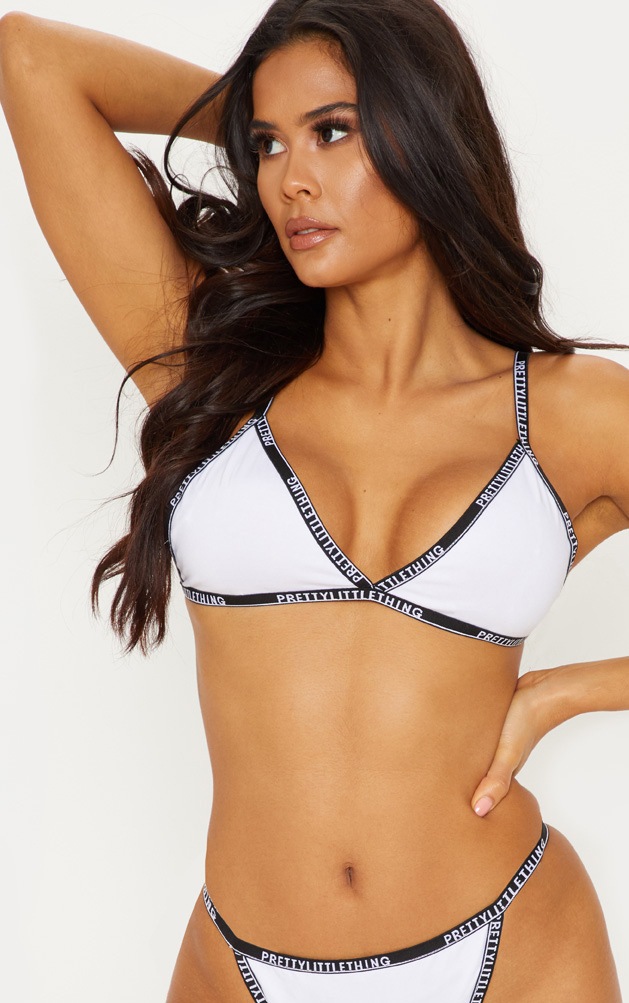 PRETTYLITTLETHING White Elastic Bordered Bra
$22.00
Make a show-stopping statement in this sassy bra. Featuring a white elasticated fabric, a 'PRETTYLITTLETHING' branded border design and thin shoulder straps, team it with the matching panties for a sultry look.
shopping_cart Buy Now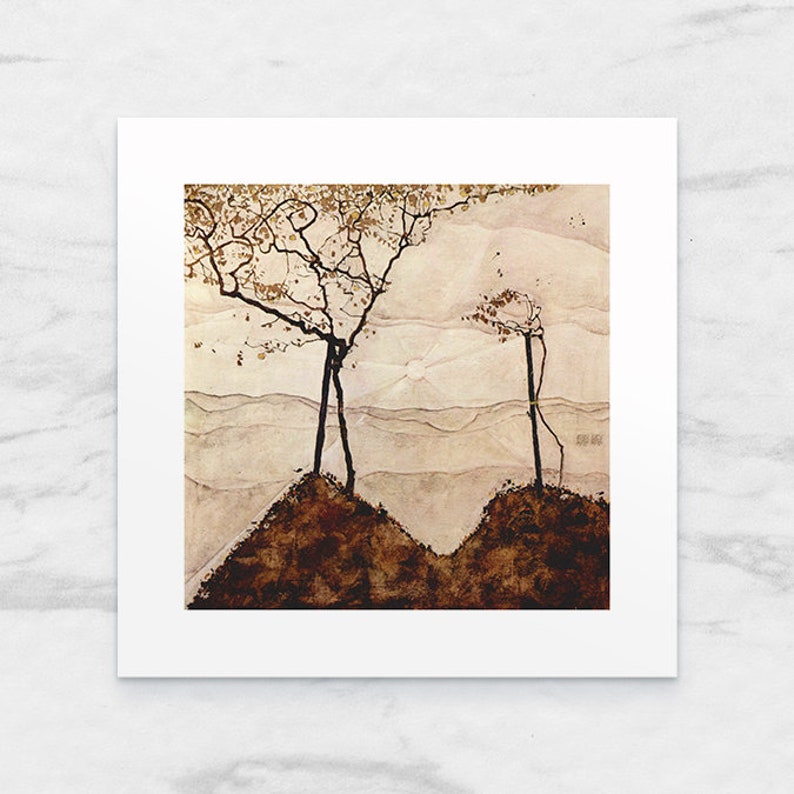 Photo Art Print with Passe-Partout; Autumn sun and trees by Schiele 25x25 cm
US$ 25.00
Sometimes we are looking for a tasteful gift for a loved one, but at the same time we want the gift to have this "something" and we want it to be functional. We were guided by this idea when we created the mini passe-partout images. Our paintings combine the features of a casual, small gift for many occasions with the role of interior decoration.
shopping_cart Buy Now
Slimmer Trimmer Premium Thigh Trimmers - Pair Weight Loss Sweat Leg Trainers Women Men (Up to 32") Thermal Slimming Wraps. Thigh Fat Burner, Exercise Enhancer Sweating (One Size fits Most (up to 32"))
$17.95
DON'T BE FOOLED BY CHEAP IMITATIONS - Most Thigh Sweat Trimmers and Bands are cheaply made and fall apart within weeks while barely providing the support you need. We GUARANTEE that our Slimmer Trimmer high quality Slimming Thigh Band will not only give you the results you desire - it will also stand the test of time, so you won't have to buy it over and over like you would with others! 100% MONEY BACK GUARANTEE - In the very unlikely event that you do not absolutely LOVE your Slimmer Trimmer Slimming Thigh Wraps, for any reason whatsoever, we'll refund you the full price NO QUESTIONS ASKED. That's how confident we are that you'll be happy with this purchase. FEEL THE BURN and SEE THE RESULTS! Your Slimmer Trimmer Thigh Sweatbands make your exercise more productive by raising your hamstring and quad / quadriceps muscle temperature, making you sweat more, and increasing the number of calories you burn! Slimmer Trimmer gets you DRASTICALLY IMPROVED RESULTS with the SAME EFFORT! SUPERIOR PERFORMANCE from SUPERIOR MATERIALS and DESIGN - Slimmer Trimmer uses top quality anti-slip, latex free neoprene lining that comfortably forms to your exact body shape to maximize perspiration while giving compression support to your inner and outer thigh. Enhanced Performance and Superior Support… that's Slimmer Trimmer! TAKE ACTION AND SEE THE RESULTS! We know it isn't easy to slim down. Our mission at Slimmer Trimmer is to help you lose weight and shape your inner thighs! Use Slimmer Trimmer Thigh Shapers during your normal fitness and exercise routine, or just wear them around the house or while you relax. Either way, you will FEEL the BURN with the help of Slimmer Trimmer!
shopping_cart Buy Now