PUMA x SOPHIA WEBSTER Girls' Tee
$30.00
PRODUCT STORY PUMA x SOPHIA WEBSTER ventures into the urban jungle for an exotic take on streetwear. PUMA silhouettes show their wild side with vibrant colors, metallic flashes, and hints of animal print for a collection that cant be tamed. This...
shopping_cart Buy Now
Silver T-Bar Chain Necklace
$10.00
This simple chain necklace is perfect for adding to any outfit. Featuring a silver delicate chain with a T-bar fastening, we are obsessed.
shopping_cart Buy Now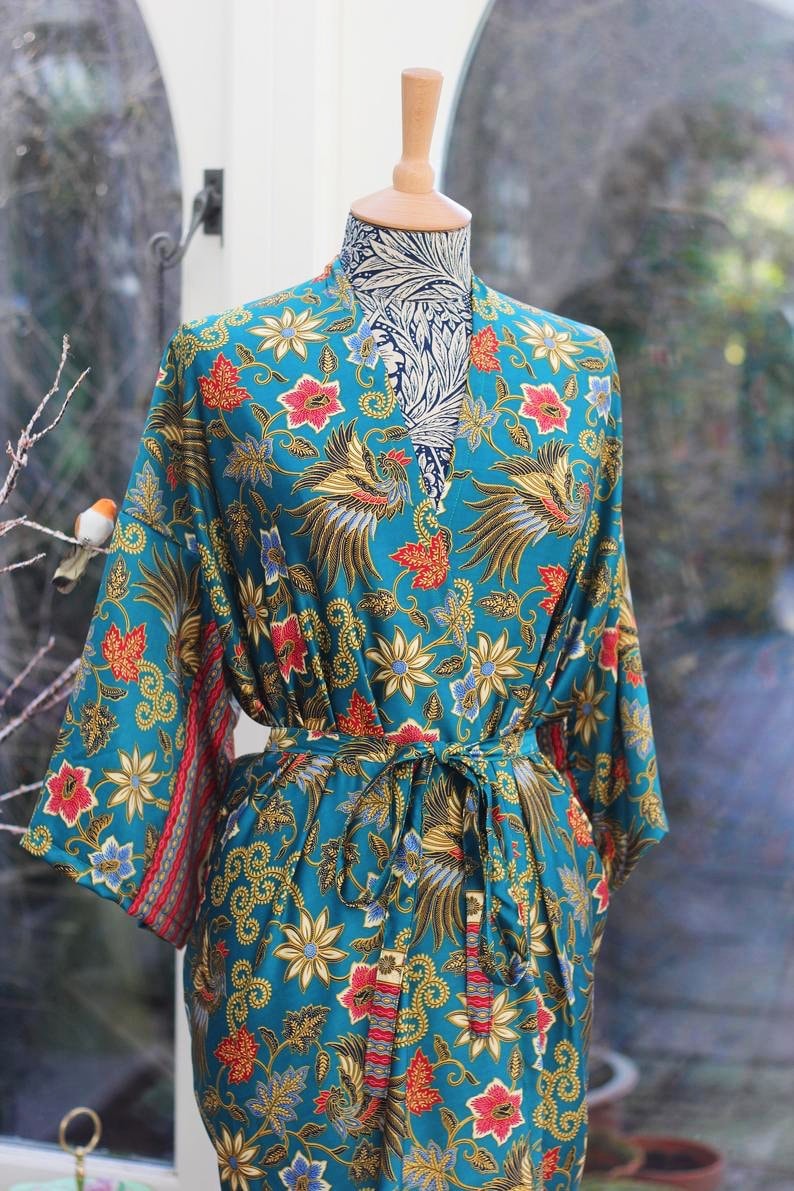 Silk Kimono Robe, Christmas gift, Dressing gown, Vintage silk kimono, Bridesmaid robes, Boho kimono, Bridal Robe, Kimono dress, Mango Moon
US$ 52.45
This listing is for one green silk kimono jacket! (Possibly the perfect Christmas gift? We do offer Christmas gift wrap - Please specify in the notes section when purchasing your kimono.)Our Japanese inspired kimonos are made from a blend of soft Indonesian silk and viscose from Java Indonesia, making it soft and as appealing as silk or satin- with a more affordable price! This unique style of kimono and the delicate pattern on it, makes it perfect for brides or bridesmaids- helping you get ready for your big day- with style and comfort! However, you don't have to get married to wear our kimono- you can wear them at home as pyjamas, wear them to nature festivals, or even style them with leggings or denim to create a semi-formal yet colourful south east Asian cultured look. Designed by Mango Moon and made in the volcanic Island of Bali, these unique Kimono's are beautifully soft on the skin and flattering for all shapes and heights sitting just below the knee.Measurements - Now available in all sizes!Height: 110cmAll kimono's will come with a matching soft silky belt to pinch in at the waist, allowing these pieces to fit all sizes.Shipping time:All MM orders are shipped within 3/5 working days ensuring a speedy arrival. Should you need a last minute 1 day special delivery request, please just message me directly to let me know so I can fix that for you. Please note, our robes are wrinkle free and machine washable. However, a hand washed is recommended due to the delicate nature of the kimonos.BULK/WHOLESALE ORDERS: All our kimonos are made from the same colourful fabric found in Java, Indonesia. Therefore, we can happily make higher quantities of all our robe's should you require this for your bridal/hen party or any bulk gift buying around the holiday seasons. Wholesale - We love the opportunity to work with other business - Mango Moon has teamed up with several retail stores/hotels all over the world in the last year who share the same love for our silky numbers. If you have any questions about purchasing our kimonos for wholesale purposes, please message me directly for further details. Thanks for stopping by and checking out our beautiful balinese kimonos! If you have any questions for me or want to ask me about bulk purchases- please let me know by clicking on the "contact seller" button here, or just reach out to me on Instagram - I'd be happy to hear from [email protected] Xx
shopping_cart Buy Now
Hugger Mugger Para Rubber Yoga Mat (River)
$94.95
Superior, non-slip grip on both sides Natural rubber is durable, and long-lasting 1/4" thickness with excellent cushion and shock absorption Streaked with a blue and green pattern Rubber is a natural, sustainable, renewable material. Ours comes from non-Amazon sources
shopping_cart Buy Now
PUMA x HELLO KITTY Girls' Long Sleeve Tee JR
$35.00
PRODUCT STORY Say hello again. PUMA x HELLO KITTY is back for a second season of collaboration. The new collection takes Hello Kittys signature cute, bubbly aesthetic and gives it a streetwise edge. Playful prints, familiar characters and logos, a...
shopping_cart Buy Now
Gold Diamante Drop Circle Earrings
$15.00
These earrings are perfect for finishing off any special occasion outfit. Featuring a diamante drop with a circle pendant at the bottom, what's not to love?
shopping_cart Buy Now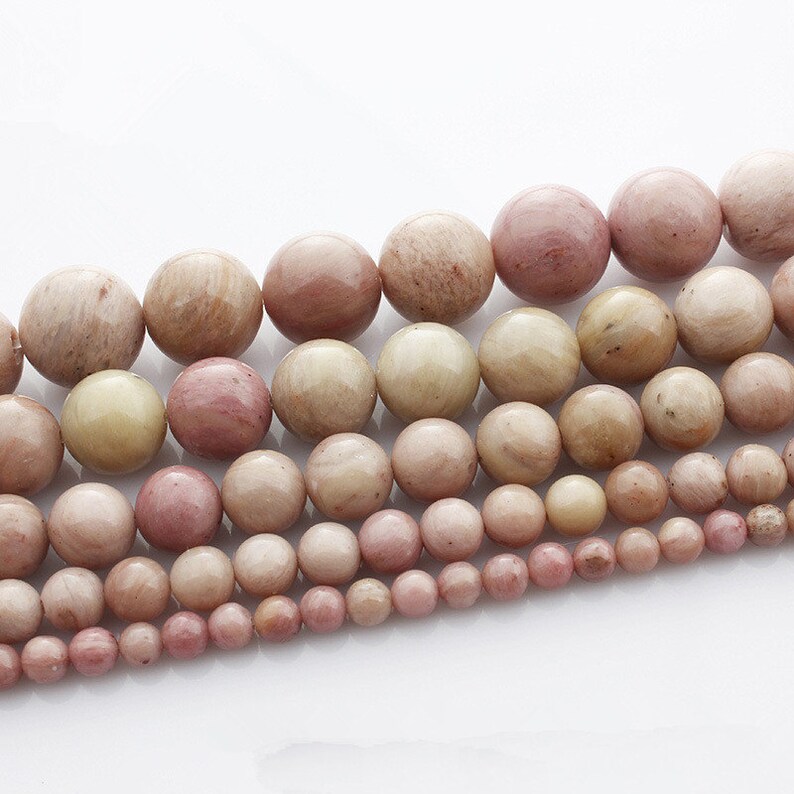 Rhodochrosite (Brazil) 4-12mm Round Gemstone Bead -15.5" Strand E279
US$ 2.99+
Type: Natural Rhodochrosite BeadsCategory: Stone BeadsSize:4mm/6mm/8mm/10mm/12mmShape: RoundLength: approx 15.5 inchesHere are the length and pieces of beads for each size:3mm---About 15-15.7 Inches, About 126--128 pieces beads per strand4mm---About 15-15.7 Inches, About 93--95 pieces beads per strand5mm---About 15-15.7 Inches, About 76--78 pieces beads per strand6mm---About 15-15.7 Inches, About 63--65 pieces beads per strand7mm---About 15-15.7 Inches, About 52--54 pieces beads per strand8mm---About 15-15.7 Inches, About 44--46 pieces beads per strand9mm---About 15-15.7 Inches, About 38--40 pieces beads per strand10mm--About 15-15.7 Inches, About 36--38 pieces beads per strand12mm--About 15-15.7 Inches, About 28--30 pieces beads per strand14mm--About 15-15.7 Inches, About 26--28 pieces beads per strand16mm--About 15-15.7 Inches, About 23--25 pieces beads per strand18mm--About 15-15.7 Inches, About 20--22 pieces beads per strand20mm--About 15-15.7 Inches, About 17--19 pieces beads per strandOrders will be shipped with China post airmail in 1-3 business days after the clearance of payment, normal delivery time is approximately 12 to 24 business days. Please refer to shop policy section for more shipping information.I also accept large quantity orders, please don't hesitate to contact at any time
shopping_cart Buy Now
BalanceFrom GoFit All-Purpose 2/5-Inch (10mm) Extra Thick High Density Anti-Slip Exercise Pilates Yoga Mat with Carrying Strap
$14.78
72" long 24" wide ensures comfort for people of all shapes and sizes. With high Density foam material, the 2/5-inch (10 mm) thick premium mat comfortably cushions you on hard floors With double sided non-slip surfaces, Balance From all-purpose premium exercise Pilates yoga mat Comes with an excellent slip resistant advantage to prevent injuries Exceptional resilience allow you to keep your balance during any exercise style. Moisture resistant technology makes the mat to be easily washed with soap and water Easy strapping and light weight feature are added to this mat for easy Transport and storage. The premium mat looks nice, feels comfortable, keeps you well balanced A free yoga mat strap is included. All genuine Balance From products are covered by a 100% Balance From satisfaction and 2-year Balance From
shopping_cart Buy Now