Amplified Men's Tee
$25.00
PRODUCT STORY Wear your PUMA pride on your chest in this everyday Amplified Tee. With bold PUMA branding, a soft cotton feel and branded taping at the sleeves, you'll want to throw this on every single day. FEATURES BENEFITS BCI: PUMA partners ...
shopping_cart Buy Now
Pearl Embellished Spherical Bag
$55.00
This bag is the ultimate statement accessory. Featuring a spherical shape, pearl and diamante embellishment and circle handle - it's sure to get you noticed whenever you use it 
shopping_cart Buy Now
Wooden Desktop Office Table Storage Organizer I Pen Tapes Paint Brushes Stationery Bullet Journal Stationery Storage I Light Brown
US$ 38.00+
?? Classic artisan toolbox kit: Absolute minimal storage solutions for artists, planners and scrapbook aficionado for storing all of your craft necessities such as washi tapes, scissors, paint brushes, wax seals, keepsakes and other stationery items. ?? Vintage Desk Organizer: The main box is divided into two. The back row is rectangle slot for lining up your favorite washi tapes. The front row has two sliding top mini containers so you can stock your journaling and scrapbook goodies using all the space you need! The sliding box will enable you to store tiny items of your office supplies.?? Tool Box Treasure: Perfect companion for the analog journey. The box closes with a snap closure made of pure steel, so your artifacts are locked. A multipurpose box inspired from vintage boxes torched woody finish.?? Product Features: It includes removable two little trays and a metal clip attached to the back of the lid for keeping loose paper, pictures and mini envelopes etc. Made of Apitong wood. It is lightweight yet very durable to carry it from one room to another wherever your inspiration leads you! A best stationery set - Perfect gift for creative folks.?? Designed, handcrafted with care and Money back guarantee: The wood is sourced from Canada and the USA. Made in the USA with the utmost care by old and young artisans.? You can add any of our stencil along with the organizer box and we can deduct the shipping cost for the additional purchase of stencil.?** For international shipping kindly contact us**
shopping_cart Buy Now
Jhirmack Silver Brightening Ageless Purple Shampoo Set of 2 developed for all shades of silver, gray, and blonde hair and enhance highlights - 1 Shampoo + 1 Conditioner
$10.95
For Gray, Blonde, Bleached or Highlighted Hair This shampoo is formulated with Green Tea Extract and Folic Acid to strengthen and condition, while CoQ10 protects from styling damage and environmental stressors to keep hair looking strong and healthy Macadamia Nut Oil moisturizes rough, limp hair without leaving your scalp greasy Trust the experts in silver & blonde hair care for bright and healthy looking results!
shopping_cart Buy Now
Amplified Men's Tee
$25.00
PRODUCT STORY Wear your PUMA pride on your chest in this everyday Amplified Tee. With bold PUMA branding, a soft cotton feel and branded taping at the sleeves, you'll want to throw this on every single day. FEATURES BENEFITS BCI: PUMA partners ...
shopping_cart Buy Now
Black Studded Western Style Belt
$22.00
Add some western detail to your look with this belt. Featuring a silver buckle and studded detailing, team this with your fave jeans and a nice top for instant style points.
shopping_cart Buy Now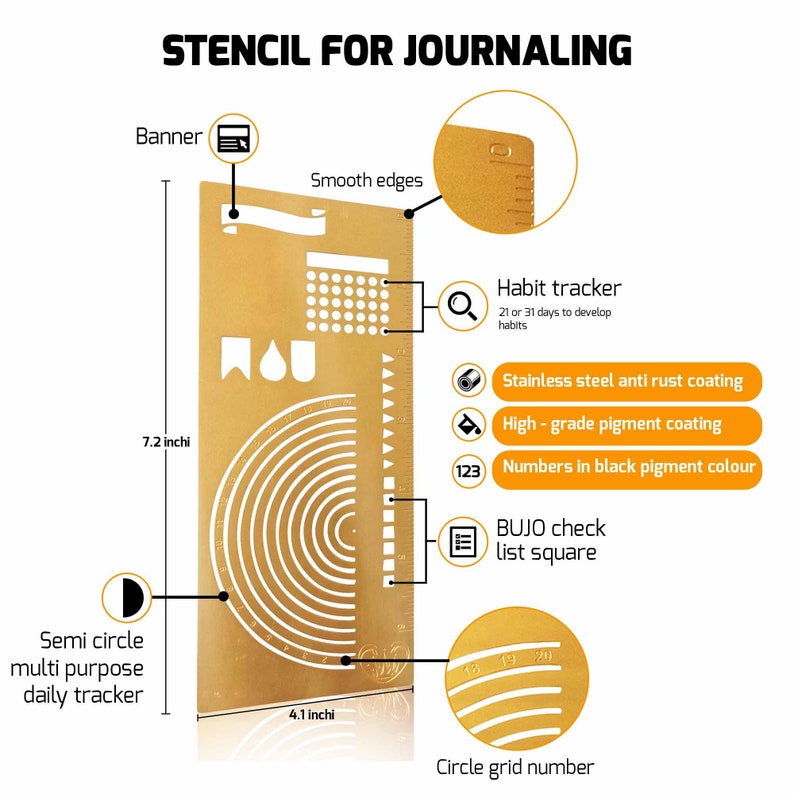 Stainless Steel Stencil I Ruler Semi Circle Template I Habit Tracker Bullet Journal Calendar Notebook Agenda I Craft Supplies (GOLD)
US$ 12.85
?Minimal Bullet Journal Must have:Are you overwhelmed by lots of embellishment from your fellow planners and you turned away from planning? Then our keep it simple journal anti-rust steel stencil kit is for you.? Do you use a daily habit tracker? Our circle and ruler stainless steel stencil will enable you to build those charts to visualise and improve how you have developed those habits in your journal.?Beyond Basics Stationary Supply: Our Pattern Stencil template will aid in capturing the memory, gratitude, affirmation, meal planning log and master the grocery list in your calendar. Set your small finance goals and rewards in your calendar journal.?Suitable for: Metal stencil is apt for plain, 5mm grid & dotted journal set. Blends well with any FINE LINER PENS, writing pens, FINE COLOR tip markers, stationary pens, fine point pens,0.3mm to 0.6mm, fine gel pens, FINE ball point pens and gel pens.?Kit includes: The high-grade stainless steel is 0.65mm and crafted with rich pigments of rose-gold, gold, and black color. More durable, long lasting and sturdier than the plastic stencil.?? Our Stencils are handcrafted and manufactured at USA.?Our Stencil will enable you to create a clean, with lots of space to log the essentials of your busy schedule.?Stencil comes with essential icons. Color them with your favorite gel ink pen, brush markers or fineliner pens.?Our stencil will facilitate you to customize the white, grid or dotted journals infinitely.You can use them to capture the dates for next year (future log), monthly log, quarter or produce a detailed daily log.?Wake up every morning and have a clear understanding of what you want to achieve each day.Detailed features : Each circle/semi-circle is 5mm apart in distance.Thickness:0.58mm(thicker & stronger than standard 0.25mm stencils) Size: 65mmx179mm?Shop with confidence and we offer complete money back guarantee!!!Usage instructions : Drawing circles: Use hollow lines on either side of the 180 degree line +/- hollow centre circle to line up semi-circle halves.We have used natural lights to capture the images of the stencil.
shopping_cart Buy Now
VO5 Conditioning Hairdressing Gray or White or Silver Blonde Hair, 1.5 Oz (Pack of 4) by Alberto VO5
$23.85
Alberto VO5 Gray/White/Silver Hair Conditioning Hairdressing
shopping_cart Buy Now