Essentials Men's Fleece Pants
$29.99
PRODUCT STORYPumas are adaptive, powerful, flexible and agile. They can sprint at speeds of up to 50 miles per hour and leap vertically to over 4 metres high. PUMA's been outfitting great feats of athletics for 70 years...just not for actual pumas...
shopping_cart Buy Now
Black Gingham Scrunchie
$6.00
Nail your outfit with this essential hair accessory. It features a black gingham pattern, we love this paired with the black gingham halterneck maxi dress to make the most out of your summer wardrobe.
shopping_cart Buy Now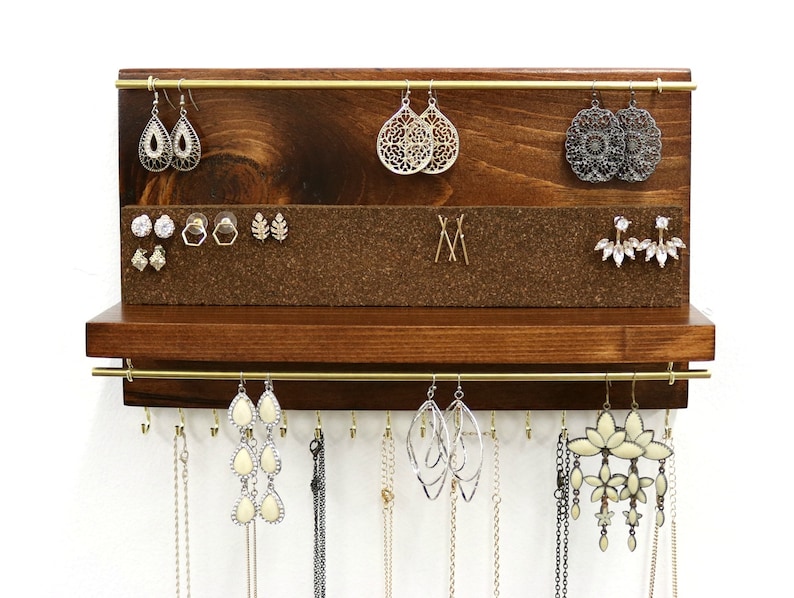 Jewelry Organizer With Shelf, Necklace Holder, Stud Earring and Dangle Earring Holder
US$ 75.00+
No more tangled or broken jewelry!*MOST POPULAR PIECE* This gorgeous hand-crafted organizer is the perfect way to showcase the true beauty of all your favorite jewelry. Our customers rave about this piece and use it to:~Display their favorite pieces – "It's like I turned my jewelry into a piece of art"~Actually wear the jewelry they have – "I feel like I have a whole new wardrobe!"~Save time getting ready – "No more painstaking detangling and frustration!"CUSTOMIZE YOUR PERFECT PIECEEvery organizer is unique to you– from the wood grain and knots. To you choosing your favorite stain, ideal length (16" long is most popular), and preferred metal finish. FEATURES~Gold or silver hooks for necklaces~2" deep shelf – great for sunglasses, bracelets, trinkets and more~2x Earring bars, below the shelf and at the top of the piece. You can also hang thin bracelets. ~Thick cork allowing you to keep your earring backs on when storing your post earrings~Handmade from solid pine, with a variety of stains to choose from~Includes keyholes, screws and hanging guide for easy installation. You can also use command strips. *Image features 12" length with honey stain.
shopping_cart Buy Now
Sports Research Sweet Sweat Arm Trimmers for Men & Women | Increases Heat & Sweat Production to The Bicep Area | Includes Bonus Mesh Carrying Bag
$18.95
GET YOUR SWEAT ON: The Sweet Sweat Arm Trimmers provide thermal compression to the bicep area promoting an additional increase in heat and sweat during exercise.* QUALITY: Made with latex-free Neoprene for Superior heat insulation. The trimmer's grid inner lining will not only prevent moisture absorption but also minimize slipping and bunching during your workout.* CONTOURED & FLEXES FOR CUSTOM FIT: Sweet Sweat Arm Trimmers are contoured to fit around your bicep comfortably, and are naturally flexible so they adjust to your shape & size. FREE BONUS: Includes mesh bag to store or wash your Arm Trimmers. SIZING: Medium Arm Trimmers - 16" length x 5.25" width recommended for arms up to 15" | Large Arm Trimmers - 18" length x 5.5" width recommended for arms up to 17"
shopping_cart Buy Now
Collective Men's Sweatpants
$34.99
PRODUCT STORYStay comfortable in the Collective Sweatpants, featuring a tapered fit and dryCELL technology to keep you feeling as fresh as you look.FEATURES + BENEFITSdryCELL: Technical fabric wicks moisture away from skin to keep you dry and comf...
shopping_cart Buy Now
White Unicorn Onesie
$45.00
Lounge in style with this Unicorn onesie, In a soft faux fur with a zip up front, this is a total must have for lazy ways and hangover days.
shopping_cart Buy Now
Metallic Purple Python Genuine Leather Teardrop Earrings
US$ 10.00
Metallic Purple Python Genuine Leather Teardrop EarringsNo two pairs are alike!All hooks are hypoallergenic, nickel free.Approx. Dimensions (LxW) approx 2" x 1.25" (add .5" for length of wire)Made from Genuine Leather*Please Note: Colors may vary slightly, depending on your monitor. Shades, textures and patterns may have slight variations from what is shown
shopping_cart Buy Now
Hair Growth Serum, Anti-Hair Loss Serum, Hair Regrowth Oil, Stops Hair Loss, For Thinning Hair, Alopecia Areata, Promotes Thicker, Fuller ? Faster Growing
$17.99
HAIR GROWTH SERUM:Helps your hair grow in a natural way by activating dormant hair follicle tissues on the scalp. It rapidly helps grow and nourish your hair effectively. Supports the strengthening of the hair root for both women and men. PREMIUM QUALITY INGREDIENTS : Ginseng, Polygonum multiflorum, Old Ginger Extract, Angelica, Black Sesame etc. All natural herbal ingredients are carefully curated to form the most gentle yet effective hair growth solution for all hair types. NOURISHING AND REPAIR HAIR: Fast Speed of hair growth.Dense hair, issuance, prevent hair loss; let the hair follicles to grow new hair root.Raise hair make hair smoother. HAIR LOSS TREATMENT :This powerful remedy protects and nourishes hair to reduce further hair loss and breakage. It revives the scalp and follicles to prevent further thinning while promoting new thicker hair growth. We always strive to deliver the best quality product for our customers. However, if you are not satisfied with the product, please do not hesitate to reach out to us.
shopping_cart Buy Now