ChromLives Cold Shoe Bracket Extension Bar Hot Shoe Extension Vlog Video Microphone Mount with 1/4'' Tripod Screw for Mirrorless Camera Vlogging Sony A6400 6300 6500 6000 Zhiyun 4 DJI Osmo Pocket
$11.99
Cold Shoe Bracket Extension Bar, Perfect for Vloggers and Content Creators! - This cold shoe bracket is a perfect solution to mount your microphone on your Mirrorless Camera like Sony A6400 6300 6500 6000 , Canon G7 X etc, Nikon Small Vlog Cameras. And to mount your led video light on your Gimbal Zhiyun Smooth 4 DJI Osmo Pocket and more. Cold Shoe Extension Bracket- Standard cold shoe type, allow to attach additional microphone or small led video light, necessary for vlogging. Cold shoe mount extended to prevent obstruction to the flip-up screen of the Sony camera. 1/4"-20 Tripod Screw- Universal 1/4" screw on top for mounting small camera/ osmo pocket (tripod adapter required)/zhiyun gimbal and other devices with 1/4" screw hole. With 1/4" threaded hole on bottom for mounting on tripod. Super Lightweight & Portable,Perfect for Vlogging- Weight only 1.23oz with length 4.7inches and the adjustable range of hole from 2.95 to 3.33 inch, cause no extra burden even you use handheld tripod for video vlogging, recording, live streaming. Sturdy & Durable - Made of solid aluminum metal. Precise CNC machining and black anodized treatment for higher durability.
shopping_cart Buy Now
share Share
Rebel Camo Men's Pants
$29.99
PRODUCT STORYSleek, tapered legs and cool, camo-printed patches add street-ready style to these comfy lounge pants.DETAILSRegular fitTapered legCamo-printed patch designRib waistband with internal drawcords for customized comfortSide pockets for s...
shopping_cart Buy Now
White Stretch Crepe One Shoulder Thong Bodysuit
$28.00
We are loving this simple but essential bodysuit. Featuring a white stretchy fabric with a one shoulder style and comfortable thong fit, style with faux leather pants to add some texture to your look.
shopping_cart Buy Now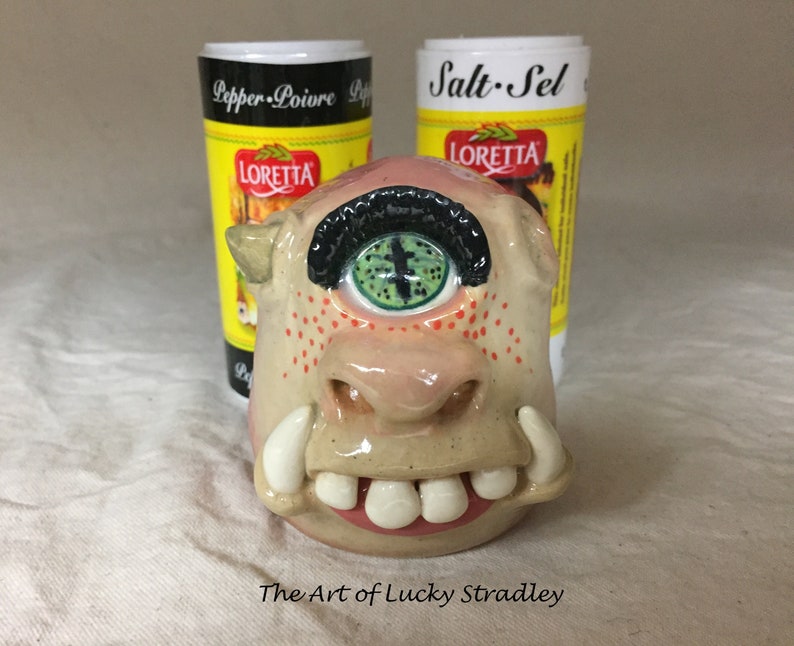 SPICE SHAKER - Wheel thrown, hand altered and sculpted ceramic corkless salt and pepper shaker. What a great addition to your table.
US$ 60.00
This spice shaker was born June 27, 2019. His name is "Grak" & he is looking for his forever home. He would great sitting on your table.He is not your traditional shakers as it has "no" stopper on the bottom and no holes on the top.To fill, slowly pour the salt or pepper into the hole in the funnel on the bottom of the shaker. You may need to tap or jiggle the shaker till the salt or pepper funnels through the hole. Once you have filled the shaker, tun it upright. The salt or pepper now sits in the bottom of the shaker in the reservoir around the funnel. The spice stays in the shaker when you lift it to pass it. A side-wards motion will not allow the spices to be dispensed. To use the shaker, you shake it up and down and the spice sprinkles out the bottom. These shakers make wonderful conversation pieces, as folks have fun trying to guess where the spices come out… the nose, the eyes, the mouth… No, it comes out the bottom.To clean just wipe the outside with a damp cloth.This dispenser was wheel thrown and then hand altered and sculpted by Lucky Stradley (that would be me). It would certainly make a great piece for a gift (hint) or to add to your collection (hint).Don't you just love his cute little eyes? I think they might just be his best QUALITY. This listing is for the actual item pictured here.If there is a group photo, then it is just for size comparison.Dimensions (approximate)2 1/4" tall2 3/4" wideSomeone please buy this piece. My husband says there are too many faces in our studio. It makes him nervous. And the neighbors (all 50 of them) keep asking..." When are you ever going to make something pretty?" I answer... "This is as pretty as it gets." If you are the one to adopt this cute fella, you will have Something Lucky.Everything we sell is produced in our studio in Hubbell, NE (population...52). Our stoneware is wheel thrown, hand altered and sculpted, fired to cone 5/6 and finished by hand one piece at a time. Every piece is an Original One OF A Kind. Teeth, eyes and most horns are created out of porcelain clay. All of our work is safe for food use and all of our glazes are lead-free and non-toxic. Once your get your new favorite piece in your very own hands, you will need to hand wash the shaker to avoid getting unnecessary water in the interior.A Note About Our Pictures: We do our best to take accurate pictures of every item, but bear in mind that lighting conditions and monitor calibration can change the appearance of colors. If you have a question about what you see, please contact us before you make a purchase. International Customers: We will ship anywhere! Just send us a conversation and we'll work out the details.
shopping_cart Buy Now
Perfotek Waist Trimmer Belt, Sweat Wrap, Low Back and Lumbar Support with Sauna Suit Effect, Abdominal Trainer
$11.99
Strong core - stabilizes your entire body. surely more than the flat belly or six-pack abs, you aim for a strong core that offers better balance, easier breathing, improved circulation and a healthy posture. It is like mobile sauna for your waist - maximize calorie burn during exercise with the waist trainer belt. It's the trimmer belt that really works! read our customer testimonials below to see how well this belt has worked for others! you'll be impressed. strong core - stabilizes your entire body. Comfortable and light-weight. one size fits most, this high-quality waist trimmer ab belt can fit up to 42 inches.
shopping_cart Buy Now
PUMA Blaster Men's Pants
$29.99
PRODUCT STORYYou'll want to take your time at the gym. These training pants are made of a 100% polyester, woven fabric that provides optimum flexibility and moves with you during your workout. PUMA's dryCELL tech uses high-quality materials to dra...
shopping_cart Buy Now
White High Neck Long Sleeve Crop Top
$22.00
Build up your wardrobe essentials with this crop top. Featuring a white cotton stretch fabric, a high neckline with long sleeves and a cropped length, the versatile style is perfect for teaming with anything.
shopping_cart Buy Now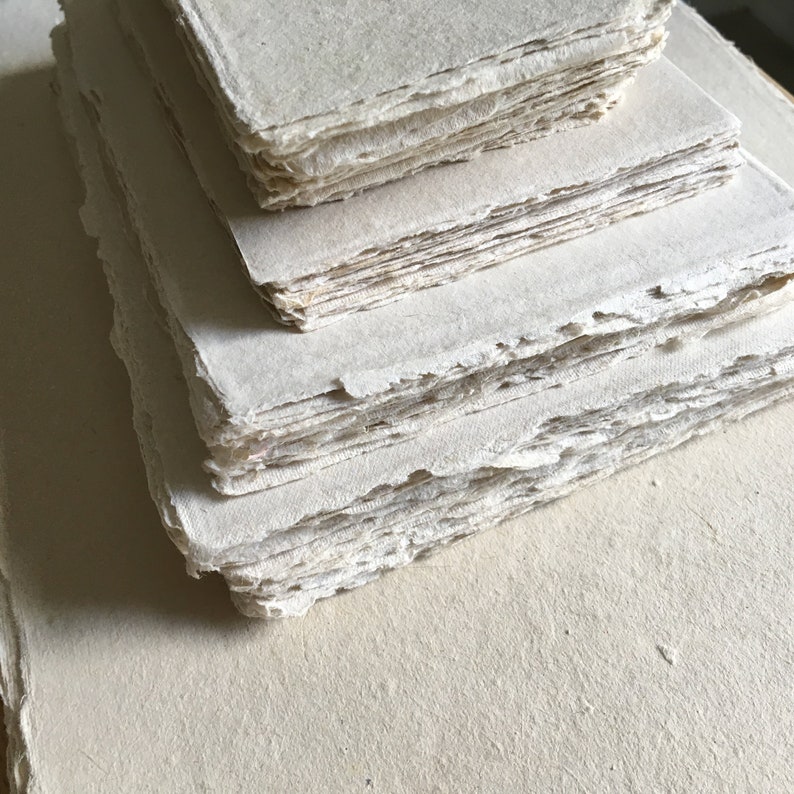 50 pack paper, Deckle Edge Paper, Custom made paper, Handmade Paper, Handmade Stationery
US$ 11.00+
This is a listing for a package of 50 deckled edged handmade papers and envelopesFollowing package options are available and listed separately for your convenienceCustom quantities are also available. Please message me and I will create a custom listing for you.25 pack papers100 pack papers300 pack papersOrder a sample pack here OrSelect a pre made card / envelope assortment of 6 items from the purchase options hereAbout The PaperOff White High Quality Handmade deckle edge recycled textured card stock paper made on handmade wooden deckles by PARWANA artisans. Each handmade paper is handcrafted from a blend of plant remnants and recycled paper content. Long fibers make stronger paper so the paper is pre-soaked and blended as little as possible. We procure scrap paper from the largest wholesale-recycled paper market in Lahore, Pakistan. Paper collection is a trade that supports a network of paper pickers who collect industrial, printer and office trash and sift through piles of paper and sort it into various colour and textures by hand. This paper is internally sized, it is neither too thick nor too thin, just the ideal weight, thickness and strength for hand lettering, watercolour, sketching, stamping, typing, bookmaking, and scrapbooking. It also prints well on home ink jet printers. One sheet at a time in the top feed tray of the printer. Please try with a sample first. Printer settings and tolerances vary.?With ALL natural deckle edges papers?With ALL natural deckle edged envelopes?Off White?No Bleach Paper?Premium Card Stock?PrintableVarious sizes available with matching envelopesMake your selection at check out>>>>Deckle Edged Blank Place Cards: 4 x 2.75 inch (10.2 x 6.8 cm)Card Approximately 225 gsm or 152 lbs (+/- 15%)* Available in 5 colours*>>>>Mini Deckle Edged Envelopes: 5.1 x 3.7 inch (13 x 9.4 cm)Mini Deckle Edged Blank Notecards: 4.75 x 3.5 inch (12.1 x 8.9 cm)Card & Envelope Approximately 225 gsm or 152lbs (+/- 15%)>>>>A2 Deckle Edged Envelopes: 5.75 x 4.38 inch (14.6 x 11.1 cm)A2 Deckle Edged Card Inserts: 5 x 3.5 inch (12.7 x 8.9 cm)Card & Envelope Approximately 225 gsm or 152lbs (+/- 15%)>>>>Square Deckle Edged Envelopes: 5.25 x 5.25 inch (13.33 cm x 13.33 cm)Square Deckle Edged Card Inserts: 5 x 5 inch (12.7cm x 12.7cm)Cards & Envelopes Approximately 225 gsm or 152 lbs (+/- 15%)>>>>A4 Card Sheet: 8.25 x 11.75 inch (21 x 29.9 cm)Card Sheet Approximately 225 gsm or 152 lbs (+/- 15%)>>>>A4 Writing Paper: 8.25 x 11.75 inch (21 x 29.8 cm)Writing Sheet Approximately 100 gsm or 67 lbs (+/- 15%)>>>>A6 Deckle Edged Envelopes: A6 6.5 x 4.75 inch (16.5 x 12 cm) A6 Deckle Edged Card Inserts: A6 6.25 x 4.5 inch (15.9 x 11.4 cm) Card & Envelope Approximately 225 gsm or 152 lbs (+/- 15%)>>>>A7 Deckle Edged Envelopes: A7 7.25 x 5.25 inch (18.4 x 13.3 cm)A7 Deckle Edged Card Inserts: A7 7 x 5 inch (17.8 x 12.7 cm) Card & Envelope Approximately 225 gsm or 152 lbs (+/- 15%)>>>>A9 Deckle Edged Cards: 5.75 x 8.5 inch (14.6 x 21.6 cm)Card Approximately 225 gsm or 152 lbs (+/- 15%)>>>>No.10 Deckle Edged Wedding Menu Cards: 4 x 9 inch (10.2 x 22.9 cm)Card Approximately 225 gsm or 152 lbs (+/- 15%)(AS IS THE NATURE OF HANDMADE PAPER, THE SHEETS MAY HAVE SLIGHT IMPERFECTIONS AND VARIATION IN COLOUR AND TEXTURES)>>>>>>>>CUSTOM ORDERS>>>>>>>>>>BULK Order listing: We do custom orders and if you wish to have a particular size or colour in mind, do share it with us and we will be happy to make it for you. No EXTRA charges for colour variations in standard sizes.Turn around time is 2-3 weeksWe print custom cards for all occasions: Weddings, Corporate Events, Announcements.We can also offer wholesale discounts for those wishing to purchase larger quantities as supplies for their own card-making business, or as stock for their craft or gift store. Please contact us for wholesale details.>>>>>>>>>>>>>SHIPPING>>>>>>>>>>>>>I ship by USPS First Class 2-4 Business Days Tracked shipping. If you wish to get an alternative shipping option or have queries regarding precise shipping costs, please feel free to contact us before ordering and we will happy to work that out with you. Shipping Upgrades are available at check out. Please provide your cell phone number if you opt for expedited shipping as it is needed by most courier companiesSamples are shipped via USPS First Class Mail without TrackingMost items shipped via Standard Shipping arrive within 2-4 business days but because I ship from Canada it could take upto 14 business days. It could take longer also if the item is held up at the Customs. Please wait 30 days before considering the item lost.Items shipped via Standard Shipping to destinations other than US & Canada arrive within 4-21 business days. It could take longer also if the item is held up at Customs. Please wait 45 days before considering the item lost.>>>>>>>>>>>>>CONNECT>>>>>>>>>>>>??Facebook =parwanapaper?? Instagram [email protected]
shopping_cart Buy Now
Sweet Sweat 'Workout Enhancer' Gel | 6.4oz Roll-On Stick
$27.95
? SWEAT HARDER, SWEAT EARLIER DURING YOUR WORKOUTS ? EASY TO APPLY ROLL ON STICK APPLICATOR ? PREPARE TO MOTIVATED TO EXERCISE ? CLEAN, FRESH SCENT ? 90-DAY SATISFACTION GUARANTEE^ (See Details Below)
shopping_cart Buy Now