P48 Modern Sports Pants
$24.99
Weve got fresh gear for our most legendary crew (yes, that includes you!). PUMAs lifestyle products are inspired by sport, yet offer a sleek, on-trend look.
shopping_cart Buy Now
Black Patent Chain Cross Body Bag
$28.00
Featuring a black patent faux leather fabric, a detachable chain strap and compact size, this little black cross body bag is essential for your weekend wardrobe.Approx Height: 18cm/7"Approx Width: 25.5cm/10"Approx Depth: 7cm/2.5"
shopping_cart Buy Now
Dichroic glass jewelry, Dichroic glass, Dichroic Glass Pendant, Fused Glass Jewelry, Dichroic glass Necklace, glass jewelry, Dichroic Glass
US$ 25.00
DescriptionThis pendant is handmade dichroic glass. It is stunning and the picture does not capture the real essence of the penColour: White Gold. Comes with a 18 inch Silver Plated Necklace. System 96 glassSize: 2.25 inches by .5 inch.All my jewellery is handmade by me, from the glass fusing of the dichroic glass.Please note that pictures may have darker or lighter colours on different monitors and are usually darker than portrayed in these pictures.
shopping_cart Buy Now
Jhirmack Silver Brightening Ageless Purple Shampoo Set of 2 developed for all shades of silver, gray, and blonde hair and enhance highlights - 1 Shampoo + 1 Conditioner
$10.95
For Gray, Blonde, Bleached or Highlighted Hair This shampoo is formulated with Green Tea Extract and Folic Acid to strengthen and condition, while CoQ10 protects from styling damage and environmental stressors to keep hair looking strong and healthy Macadamia Nut Oil moisturizes rough, limp hair without leaving your scalp greasy Trust the experts in silver & blonde hair care for bright and healthy looking results!
shopping_cart Buy Now
P48 Modern Sports Pants
$24.99
Weve got fresh gear for our most legendary crew (yes, that includes you!). PUMAs lifestyle products are inspired by sport, yet offer a sleek, on-trend look.
shopping_cart Buy Now
Sand Ultimate Oversized Hoodie
$32.00
We're going crazy over natural hues this season and when it comes to day wear, this super comfy hoodie is one to add to your hitlist. Featuring an oversized fit and an essential sand hue, team, team with cycle shorts and fresh kicks for a blogger worthy style.
shopping_cart Buy Now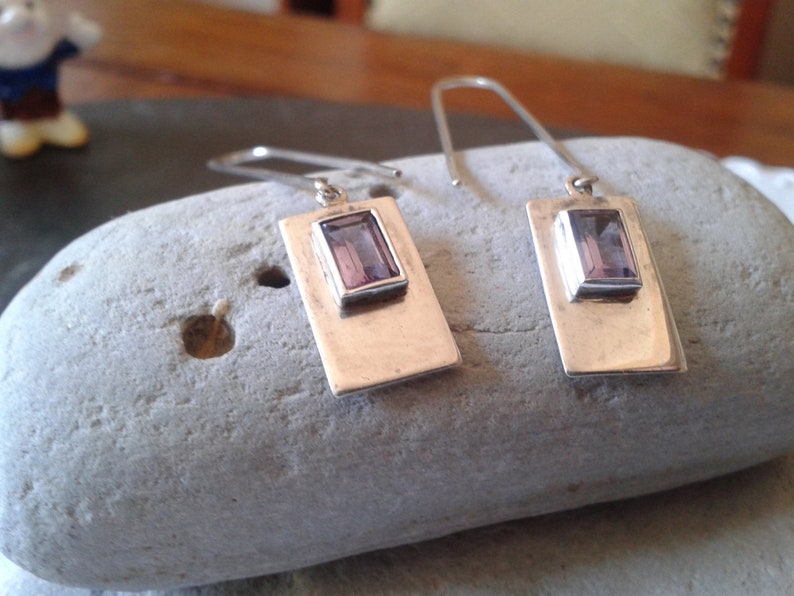 VTG 80s sterling silver minimalist modern geometric long dangle faceted amethyst earrings birthday 90s mod birthday jewelry gift for her
US$ 74.99
SIZE: approx: 2 3/16" long with the wire being about 1 1/2" long and the geometric dangle is a little over a 1/2" or 15 mm and the amethyst is about a 1/4" and is faceted CONDITION: In good to excellent used vintage condition from the 80s -90s. One wire is a little wider than the other, but is not noticeable on. Marked 925 in teeny tiny on the wire of the earrings, see pic #3 on zoom. Original owner.FREEE DOMESTIC SHIPPING: includes USPS first mail with tracking and insurance. Keep in mind, we ship out every Mon, Wed and Fri, unless it's a holiday or the day after a holiday and then we resume shipping on the next designated day.February birthstone jewelry! or the Valentine's Day minimalist in you! Use with these seemingly timeless minimalist modern geometric amethyst earrings. This light color purple amethyst with sterling will help you stay grounded from it's positive energies.Amethyst is the birth stone of February and keeps an aura of positive energy that connects the mind, body and soul grounded with the world.like these, but chunky, perhaps by same designer: SOLD OUTmore vintage gold and sterling jewelry in this shop:more antique vintage jewelry for men and women at HoarderRehab:more vintage jewelry at VintageToGoeasy:Hoarder History: OH my, I bet these and the amethyst chunkies were by the same designer and I couldn't decide which one I like better, so I bought them both! I think as a hoarder, I did that a lot! I think I bought these in the 80s during my punker college days and wore them on into the 90s. They look great with a short summer hair cut and I got a lot of compliments when I wore them.Untold History: I hope these go to a new life of someone living their punker days now! Still can be worn for your day job and night wear too! Very versatile!Please feel free to ask any questions, make an offer, comment, leave feedback, leave info pertaining to this item, just say "Hi!" or request more pics.Before purchasing please convo with zip code for exact shipping costs, especially with combined orders and read shop policies.Most shipping prices quoted are based on USPS flat rate priority shipping, the difference will be refunded from the total based on shipping and handling. International shipping and/or insurance available, please contact for more details. Thank you for taking part in my HoarderRehab via The Destiny of Things!If there is a story behind the purchase of this item, I'd love to know it! I am collecting these stories, instead of more things, as part of my HoarderRehab therapy and will place it on my blog: The Hoarder Rehab Blog: The Destiny of Things or http://hoarderrehab.blogspot.com/Thank you in advance for your time, story and pics you wish to share! Thank you for taking part in my HoarderRehab!Come read 540+ stories from Etsy buyers helping me along on my Hoarder Rehab journey!http://hoarderrehab.blogspot.com/Join me and share your story!
shopping_cart Buy Now
Jhirmack Silver Brightening Ageless Purple Shampoo Set of 2 developed for all shades of silver, gray, and blonde hair and enhance highlights
$12.68
For Gray, Blonde, Bleached or Highlighted Hair This shampoo is formulated with Green Tea Extract and Folic Acid to strengthen and condition, while CoQ10 protects from styling damage and environmental stressors to keep hair looking strong and healthy. Macadamia Nut Oil moisturizes rough, limp hair without leaving your scalp greasy. Trust the experts in silver & blonde hair care for bright and healthy looking results! Includes: Set of 2 Shampoo
shopping_cart Buy Now