MACTREM Professional Camera Tripod with Phone Mount, 62" DSLR Tripod for Travel, Super Lightweight and Reliable Stability, Ball Head Tripod Detachable Monopod with Carry Bag ( Black)
$59.99
?33LBS Max Load, stable to take sharp picture? Max Stable Load up to 33 lbs (15 kg). The tripod offers high level of stability using great quality level of aluminum material. You can focus on composition and get ready for your photo or video without worrying your hand may be shaky. The quick release plate of ball head has a 1/4" Screw which is suitable for most cameras, camcorder, binocular and projectors. Moreover, the tripod comes with a phone holder which allows you to attach cell phone on the tripod. ?2.9LBS lightweight and Portable for travel? Only 2.9 lbs weight and 17.5 inch compact folded size, you can easily take it in the included carry bag to anywhere for outdoor shooting. This lightweight tripod is a great companion for your long trip. In addition, the tripod can be detached as a monopod or you can also use it as an alpenstock while hiking. ?Take macro Photography with upside-down center column? with simple steps, The center column can be turned upside-down to take macro photography. It allows your camera to get closer shoot to the objects and magnify its textured and quality. Upside-down center column is an excellent function if you want to photograph exquisite items such as jewelry, watch, earrings, necklace. You can also use it to take street photos or anything with a lower angle. Have a try, the world in macro is wonderful! ?Capture 360 degree landscape with confidence? have you ever got a blurry or discontinuous photo using panoramic function of your cell phone? The MACTREM 360 Degree swivel ball head is the solution. Simply attach your cell phone or camera onto the tripod and rotate the ball head to take perfect pictures. The phone holder can hold mobile phone with Width less than 4.13 inch (iPhone x, 8plus, 8, Samsung S9+ etc.). You can even DIY your tripod, change the ball head to the model you like! ?Easy set up and no-hassle safe? 4-section column legs with quick release flip-locks allows you to adjust the working height from 17.5"to 62.5" in seconds. Quick-release plate makes fast transitions between shots and quickly moving from spot to spot possible
shopping_cart Buy Now
share Share
Classics Embroidered Men's Tee
$14.99
PRODUCT STORYIt's all in the details. Sport this classic embroidered tee for everyday comfort and style.DETAILSRegular fitShort sleeve constructionRib crew neckEmbroidered Archive No.1 Logo at chest
shopping_cart Buy Now
White Faux Leather Buckle Strap Detail Pants
$55.00
These pants are sure to give your look a promotion. Featuring a white faux leather fabric with buckle strap detailing on the bottom and a slim leg fit, what's not to love? We love this teamed with an asymmetric top and clear heels for an edgy look that's sure to steal stares.
shopping_cart Buy Now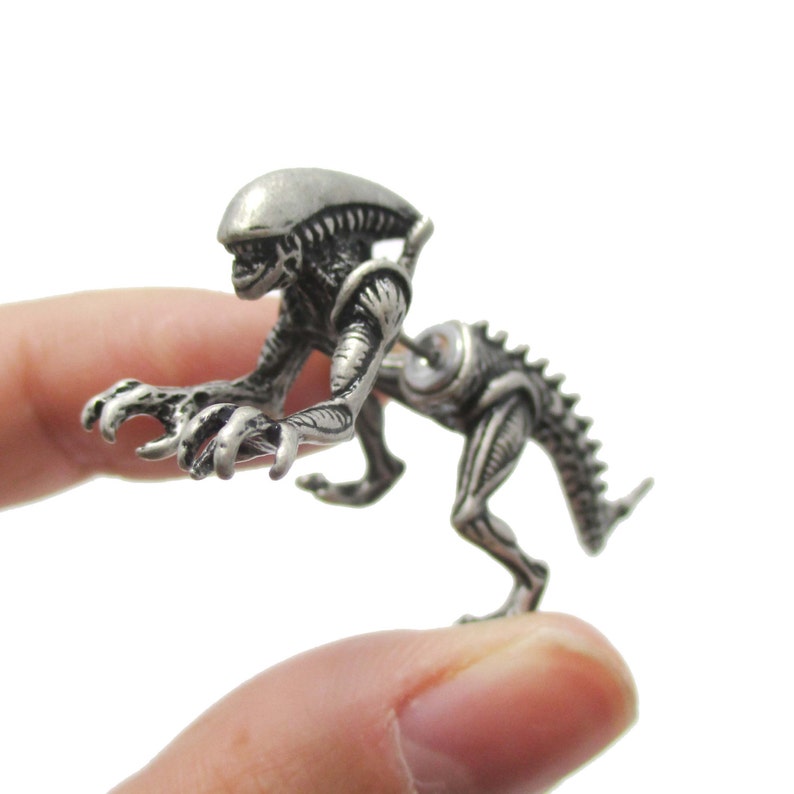 3D Realistic Xenomorph Alien vs. Predator AVP Shaped Animal Fake Gauge Plug Earrings in Silver | Unique Faux Ear Piercings
US$ 12.96+
*** On pre-order, set to ship March 23! ***A pair of detailed and realistic fake gauge earrings made in the shape of a Xenomorph in silver! Sold per piece or per pair! Please select using drop down menu!SIZE: Each Xenomorph measures 2 cm tall by 4.7 cm wide and opens up in the middle! You can order ONE piece or one PAIR (select using drop down menu)Not sure what fake gauges are?They are earrings that are made to look like ear gauges when you put them on! It'll look like the elephant is piercing through your ear lobes when in fact they open up in the middle and are worn like regular stud earrings!SHIPPING: We ship worldwide with EXPRESS shipping with tracking! $4.50 for the first item and $1.50 for any additional items you may want to add to cart!Buy more for combined shipping! Automatically adjusted at checkout!
shopping_cart Buy Now
3B Scientific Dark Blue Dejarnette Style Wedge, 8-1/4" Length x 4-1/4" Width x 4-1/2" Height
$22.48
The dejarnette style wedge has a unique shape, making it great for use in osteopathy The wedge has an unlimited amount of therapy applications such as increasing muscle strength and tone, posture improvement, balance, spinal therapy and much more Manipulate and massage bones, joints and muscles for the best osteopathic therapy The wedge is a great tool for using the musculoskeletal in treating disease and for improvement of overall health Measures 8-1/4" length by 4-1/4" width by 4-1/2" height
shopping_cart Buy Now
Classics Embroidered Men's Tee
$14.99
PRODUCT STORYIt's all in the details. Sport this classic embroidered tee for everyday comfort and style.DETAILSRegular fitShort sleeve constructionRib crew neckEmbroidered Archive No.1 Logo at chest
shopping_cart Buy Now
Auriel Black Jogger Jumper Knitted Lounge Set
$50.00
Comfort at its finest! We are loving this lounge set, perfect for those CBA day's - we all have them! This matching set features a comfy knit fabric with a drawstring waistline, style this with crisp new sneakers for that off-duty look.
shopping_cart Buy Now
A.) Extra Small Mukluk Handmade Slipper Socks - Suede Leather - Women's size 5 to 5.5/ kid's size 3
US$ 11.99
Women's size 5 to 5.5kid's size 3These mukluks are handmade and can have slight differences in the fit of each pair.Extra small Mukluks with 8.5" Suede Leather Sole.Mukluks are really warm handmade knitted slipper socks with suede leather soles for both men and women. Assorted colors. 70% wool and 30% rayon, machine washable.
shopping_cart Buy Now
OPTP Original Kaltenborn Concept Wedge (612)
$39.95
Easy-to-use mobilization wedge for manual therapy Durable, non-slip rubber construction is comfortable for the patient Molded groove relieves pressure on the spinous process Bottom of the wedge can be used as a positioning tool for extremity mobilization Measures 4.25" W x 8" L (base) x 2.5" H
shopping_cart Buy Now