Ailun Phone Tripod Mount Stand,Small Light Universal for iPhone 11/11 Pro/11 Pro Max/X Xs XR Xs Max 8 7 Plus 6 6s Galaxy S10 Plus S7 S6 Note 10 5 4 More Camera Cellphone Black
$6.99
Flexible Tripod Legs: Flexible Tripod Legs allow your device to be firmly mounted on flat or uneven surfaces for ultimate stability and creativity. You can put your tripod on a table, around a pole, or even hanging from a tree branch,ensuring you have a stable shot, achieving amazing pictures from a variety of cool different angles. Retractable&Detachable Holder: Retractable phone holder automatically adjusts to most phone sizes(width between 55mm - 85mm),including iPhone 11/11 Pro/11 Pro Max/X/Xs/XR/Xs Max/8/8plus, iPhone 7/ 7 plus, iPhone 6s, iPhone 6s plus, iPhone 6 plus, iPhone 6, iphone SE/5s/5/5c,Samsung Galaxy s10s10 plus S7/S6,Galaxy S7/S6 edge, Note 10/5/4/3 and so on. Universal Screw: Universal screw (1/4inch) allows a variety of cameras to be mounted,compatible with quite a range of digital camera and compact video camera. Note: Make sure that your camera has the screw hole for installation. Lightweight&Compact: Its lightweight design and easy portability mean that you can put it in your pocket or your briefcase and take it everywhere you go. And you will be ready for the perfect picture at any time. The phone holder's spring-loaded mechanism makes it extremely easy to quickly insert or remove a cell phone from the holder without scratching your device.
shopping_cart Buy Now
share Share
Men's Speed Pants
$45.00
PRODUCT STORY Performance and comfort combine in the sleek fit of our Speed Pants. DETAILS Regular fitElastic waistband with PUMA brandingMesh inserts at back and crotch panelDual side welt pocketsTapered legs with zip openingsErgonomic fit for ...
shopping_cart Buy Now
White Buckle Double Tape Belt
$15.00
Finish off your outfit with this killer belt, featuring white tape with a double buckle design. It's the finishing touch to any look doll.
shopping_cart Buy Now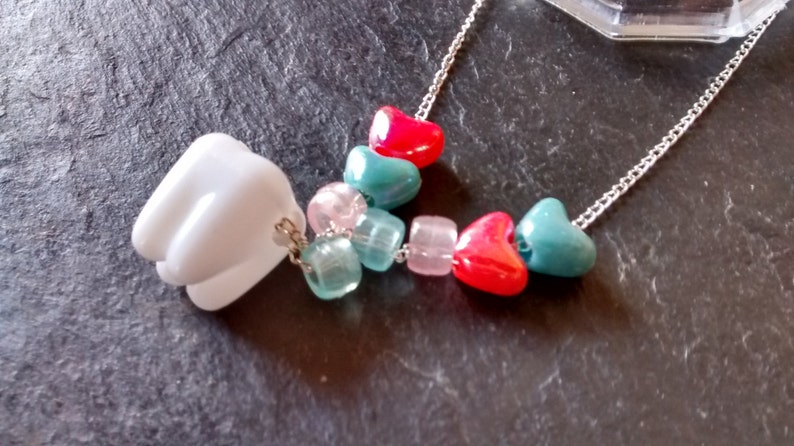 DIY first loose tooth fairy locket pendant gold tone necklace only heart & gid beads kids activity jewelry craft gift supply birthday kit
US$ 4.99+
All I want for New Year's to Valentine's is my two front teeth! CHOOSE a container: AVAILABLE: gum ball capsule or diamond box. CHOOSE: AVAILABLE GOLD tone necklace. SILVER tone necklace is SOLD OUT!KIT INCLUDES: 1 white hinged plastic tooth locket2 red and 2 blue pony heart beads or other color requests welcome2 pink and 2 blue glow in the dark pony beads or other themed color requests welcomea 17 inch GOLD tone carnival chain necklace. SILVER tone has SOLD OUT!1 gum ball capsule randomly chosen color or clear diamond container.NOTE: We no longer stock the the diamond ring box in the photos, we only have the larger clear diamond box and gum ball capsules.CONDITION: New and ready to assemble for your little one's first loose tooth. HOW TO: Beads have large enough holes to slide on from either end of necklace closures and the tooth locket hinges are used to add it on.CAUTION: may be a choking hazard for children under 5 years old.FREE DOMESTIC SHIPPING: includes boxed bubble wrap either USPS First Class or 2-3 day PRIORITY USPS mail with tracking and insurance; which ever is cheapest to your postal code.Calling all toothless grins! or elementary school Back to School! Everything fun! Glow in the dark beads, hearts and even a fun capsule box! If you'd like different color heart beads to match your theme colors or holiday, let me know through Etsy email and we will see what's still in stock.Same color themed necklace, but with a reddish tooth fairy pirate treasure chest:Junk Drawer Love Story: I've loved beading and family get together activities since I was child! I hope others do too!Please feel free to ask any questions, request more pics, make an offer or trade, comment, leave info pertaining to this item or just say "hello".Before purchasing multiple items, please convo with zip code for exact shipping costs, especially with combined orders and read shop policies.Most shipping prices quoted are based on USPS shipping with tracking from California to New York and/or flat rate priority shipping with tracking and insurance, the difference will be refunded from the total based on shipping and handling. International shipping and/or insurance available, please contact for more details.Thank you for visiting HoarderRehab's: JunkDrawerandMore!If there is a back story about this item, I'd love to know it! What new life will it have with you? I am collecting these stories, instead of more things, as part of my HoarderRehab and will share it on my blog: The Hoarder Rehab Blog: The Destiny of Things!Thank you in advance for your time, story and pics you wish to share!Read stories from 530+ Etsy buyers who have helped me with my HoarderRehab!http://hoarderrehab.blogspot.com/Join me and share your story!
shopping_cart Buy Now
Sports Research Sweet Sweat Arm Trimmers for Men & Women | Increases Heat & Sweat Production to The Bicep Area | Includes Bonus Mesh Carrying Bag
$18.95
GET YOUR SWEAT ON: The Sweet Sweat Arm Trimmers provide thermal compression to the bicep area promoting an additional increase in heat and sweat during exercise.* QUALITY: Made with latex-free Neoprene for Superior heat insulation. The trimmer's grid inner lining will not only prevent moisture absorption but also minimize slipping and bunching during your workout.* CONTOURED & FLEXES FOR CUSTOM FIT: Sweet Sweat Arm Trimmers are contoured to fit around your bicep comfortably, and are naturally flexible so they adjust to your shape & size. FREE BONUS: Includes mesh bag to store or wash your Arm Trimmers. SIZING: Medium Arm Trimmers - 16" length x 5.25" width recommended for arms up to 15" | Large Arm Trimmers - 18" length x 5.5" width recommended for arms up to 17"
shopping_cart Buy Now
PUMA Blaster Men's Pants
$55.00
PRODUCT STORYYou'll want to take your time at the gym. These training pants are made of a 100% polyester, woven fabric that provides optimum flexibility and moves with you during your workout. PUMA's dryCELL tech uses high-quality materials to dra...
shopping_cart Buy Now
White Basic Square Buckle Belt
$15.00
An essential for every girl's accessory collection, this basic white square belt is perfect styled with any outfit.
shopping_cart Buy Now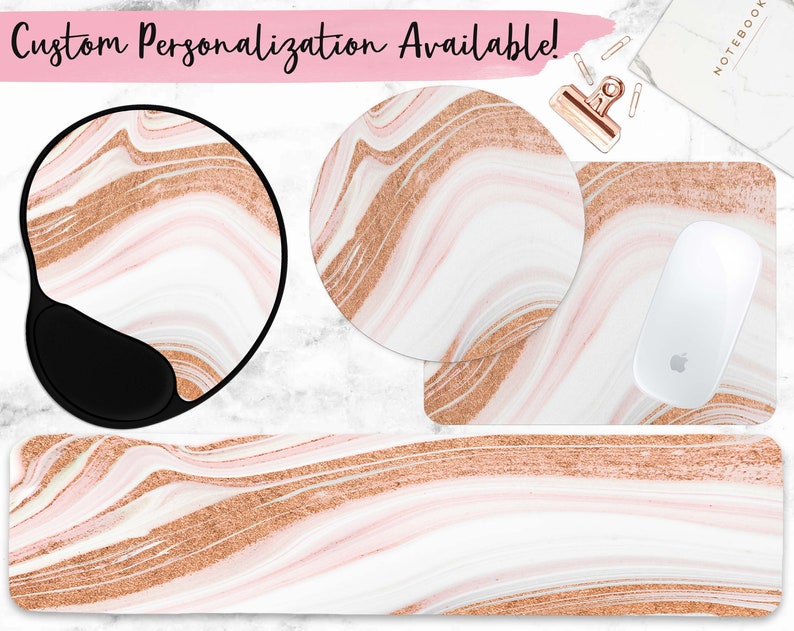 Faux Rose Gold and Pink Mouse Pad & Keyboard Wrist Rest | multiple styles, matching accessories and personalization available!
US$ 14.95+
?If you'd like to personalize this item with your name, monogram or favorite quote, please add this listing to your cart, too | https://etsy.me/2Gk5od8 |You'll be able to see all of our personalization styles & colors, as well as step-by-step instructions!Dress up your desk space with these sassed up desk mats & mousepads! Available in a variety of styles and sizes with the option to personalize with your name, monogram or favorite quote! ? Rectangle Mousepad ?- 7.75 x 9.25"- supportive & skid-free neoprene- smooth fabric top- 1/4" thick neoprene open-cell rubber backing- rounded corners? Round Mousepad ?- 7.5" diameter- supportive & skid-free neoprene- smooth fabric top- 1/4" thick neoprene open-cell rubber backing? Mousepad + Gel Wrist Rest ?- actual mousepad measures 8.5x6.9"- smooth fabric top- ergonomic mousepad- black plastic foot with gel wrist rest- mousepad surface is removable allowing for easy cleaningDon't forget to check out our matching desk mats! Please note: All items are printed & made to order - most items will ship within 5 business days, however, during peak times (holidays, major sales) it may take up to 10 business days for production. Expedited production & shipping is available, please contact us before ordering to arrange a rush order.
shopping_cart Buy Now
Sweet Sweat 'Workout Enhancer' Gel (6.4oz Stick)
$29.99
Sweet Sweat 6.4oz roll on stick
shopping_cart Buy Now