GEEKOTO 77'' Tripod, Camera Tripod for DSLR, Compact Aluminum Tripod with 360 Degree Ball Head and 8kgs Load for Travel and Work
$79.99
CONVENIENT: From 19'' to 77'' Flexible Adjustment.4-section column legs with quick release flip-locks allows you to adjust the working height from 19'' to 77' in seconds.Winner in height! FLEXIBLE: 360°PANORAMA AND BALL JOINT: The specially designed ball-head can rotate 360° and get free angles, allowing you to get the perfect shot and amazing panorama every time. TRAVEL/OUTDOOR: 19'' compact storage size and easily carried with bag. Tripod legs can be adjusted in three levels of opening angle to stabilize on varying grounds and incline levels. Suitable for travel or outdoor shooting. TRANSFORM: This tripod can be quickly disassembled with the central axis screw and transform into a monopod, providing an alternative way of shooting with ease. PORTABLE?3.37lbs / 1.53kg tripod weight and 17.6lbs / 8kg maximum load weight. 77'' in height and easy-carried. This tripod can make it the best companion of your DSLR cameras and withstand heavier load compared to similar products yet remain stable. Locking method: pull buckle
shopping_cart Buy Now
share Share
BMW M Motorsport Men's Striped Polo
$60.00
PRODUCT STORY BMW colors are sleek and stylish in this striped polo. With bold branding at the front and back, this polo is worthy to rep PUMA and BMW Motorsport. DETAILS Regular fitThree button placket with polo collarBMW M Motorsport colors kn...
shopping_cart Buy Now
Rose & Caramel Intensity Bronzed Tanning Spray
$48.00
Tanning Is Finally Available For Home Use. A Salon Quality Formulation Combining All The Benefits Of A Cream Based Tan With The Convenience Of A Spray Designed To Get Ultra Dark Even Results Everytime.Intensity Self Tan Spray Is A Large 250ml Bottle That Goes Deep Into The Skin For The Perfect Multi Dimensional Tan With A Bold Bronzed Finish. This Product Can Be Layered For Extra Dark Results.
shopping_cart Buy Now
Dutch Girl Figurine, Dutch Woman Figurine, Vintage Dutch Girl Porcelain Figurine, Vintage Porcelain Dutch Woman Figurine, Holland Figurine
US$ 12.00
This is such a lovely hand painted vintage porcelain figurine of a pretty Dutch girl with a basket full of flowers! In good vintage condition, there is a small chip on the edge of the bottom of the base that is hard to notice and does not affect the integrity of the piece in any way. Although her hands are in perfect condition we think that she may have been holding a flower in her right hand at one point that is no longer there. However, she is absolutely beautiful just as she is and quite unique. We are very happy to offer her for sale in our Happy Gals Vintage shop. She stands 6-3/4" tall and 3" wide and just full of details and personality. She is numbered on the bottom of the base. What a great addition she would make to a vintage figurines collection!*** You can now feel even better about shopping with Happy Gals Vintage, knowing that we now donate 5% of all our profits to Action Against Hunger; a charity who's International efforts save hundreds of thousands of lives each year (many of them children) from diseases and ailments caused by malnutrition. Thank you for your business; we truly appreciate it!***Please do visit our other shop, Elements Five, as well, for one of a kind, spiritual jewelry, art, and gifts:
shopping_cart Buy Now
Purple Hair Mask - Hair Toner w/Avocado Oil, Retinol & Silk Protein for Blonde Hair, Ash & Platinum Hair - Made in USA - Greatly Lighten Brassy Hair and Condition Dry Damaged Hair - No Yellow Hues
$20.89
PURPLE MASK FOR COOL BLONDE - You definitely want no yellow or brassy hues in your light blonde hair! REVICARE Beauty created a perfect Purple Hair Mask that will eliminate yellow undertone within 15 minutes while taking care of your hair health. Refresh your color from one application! Blonde Hair? WE CARE! EXTEND YOUR SALON COLOR - After discoloration, your hair becomes porous and easily lose the cool controlling pigment. Our hair toner infuses your hair with a perfectly matching dye molecule that stays on the surface of the hair, helping to fight yellowness and maintain those light & ash blonde tones. No more brassy hair! DAMAGED HAIR RESCUE - The perfecting formula of our blonde hair mask will revitalize and repair your hair to the core. Retinol, Silk Protein, Avocado Oil, and Aloe Vera will nourish and enhance your hair inside and out, returning their natural shiny, gorgeous healthy look. Get the sheer blonde hair you always dreamed of! SAFE AND EFFECTIVE - Our purple toning mask is made in USA by an FDA & GMP compliant facility. It is formulated without any damaging substances that can damage your hair. REVICARE Beauty is parabens-free, and Sodium Chloride-free. Each batch is 3rd-party tested for the best possible quality. BE CONFIDENT - REVICARE Beauty is a highly client-oriented company. We value your experience with our products and want you to get the maximum out of our hair masks. If you need any assistance - contact us, and our support team will help you within 12 hrs. We appreciate any feedback you leave. Enjoy your perfect hair with REVICARE!
shopping_cart Buy Now
BMW M Motorsport Men's Striped Polo
$60.00
PRODUCT STORY BMW colors are sleek and stylish in this striped polo. With bold branding at the front and back, this polo is worthy to rep PUMA and BMW Motorsport. DETAILS Regular fitThree button placket with polo collarBMW M Motorsport colors kn...
shopping_cart Buy Now
bBold Liquid Tan Medium 200ml
$28.00
Get the perfect tan in an instant. bBold dries quick and lasts on the skin for 5-7 days, fading naturally. A subtle blend of calla lilly, pink peony and vanilla orchid form a delightful refreshing fragrance. All bBold products are Paraben Free and Non Toxic.
shopping_cart Buy Now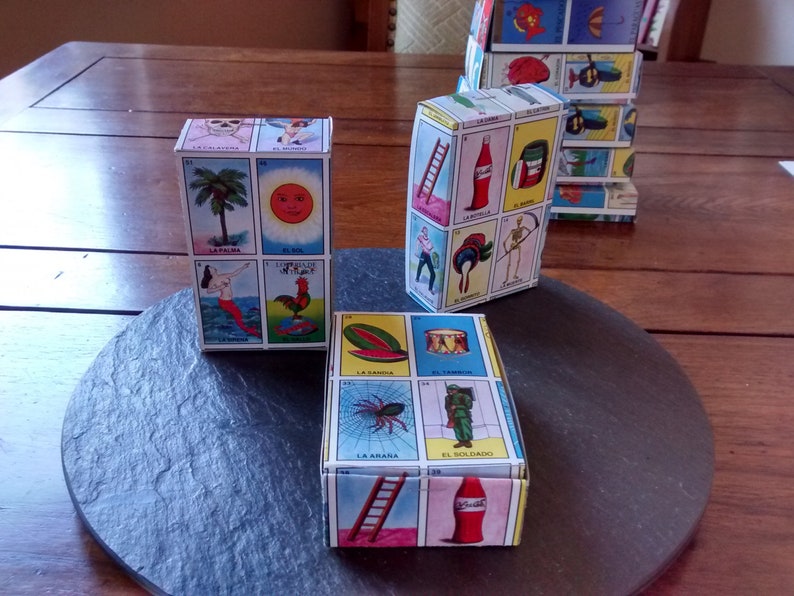 Loteria party favor boxes fiesta taco Mexican centerpiece wedding birthday decoration 4x3 container Dia Los Muertos Day of the Dead gift box
US$ 1.49+
SIZE: approximately: 4" long x 3" wide by a little over 1 inch deep. These are handmade and sizes may vary slightly. READY TO SHIP CONDITION: I have a total of 6-12 boxes ready to ship out. Stock photos, yours will be like the 4x3 boxes in the photos and are ready to ship!DOMESTIC SHIPPING: includes boxed in a box with USPS First Class mail with tracking and insurance.OTHER DETAILS: The boxes may have a different design and/or may not be white, in the inside, but the outsides will have the traditional loteria style and colors.PHOTOS 1-5: show boxes made from traditional loteria game boards and show the fronts, backs, sides and insides of each box. PHOTO 6: shows how an Etsy buyer is using the boxes as centerpieces for her Day of the Dead wedding. She is using the boxes in place of the loteria card and putting a table gift inside each one.PHOTOS 7 & 8: show loteria boxes made from a different more updated modern type of loteria game boards and have a different design on the inside. Request it through Etsy email if you'd like these instead. I have a lot of that style ready to make to order.PHOTOS 9 & 10: show how they can double as a fiesta party centerpiece and party favor box with other items available from this and our other shops. Details below.MATERIALS: loteria game boards.CUSTOM ORDERS of 50+ BOXES: If you need these in larger amounts, please contact us through Etsy email with the amount you need and any time sensitive deadlines. We will need at least week to source out the materials and make them. For example, 100 game boards will be needed to make 50 boxes. CUSTOM PRICE is SUBJECT to CHANGE, depending on the cost of the materials at the time. As of JULY 2017, the best price we can do is $1.50 per box and we will need half the amount up front to source out the materials. FREE PICK UP WELCOME, if you are based in Los Angeles, CA.If you are based in Los Angeles or Monterey Park, California, FREE PICK UP is available to help keep the costs of these boxes lower.LAST PHOTOS: items, like the butterfly candle holders are in this shop here:Mermaid toppers for fiesta cocktails, mimosa, sangria and margaritas here:Blue Virgin Guadalupe vase or candle at our other shop: LAST ONE!Pistol table confetti plastic gun charms at our other shop here:Hoarder History: I make these to ship out my loteria card art and as gift boxes for family.Untold Destiny: maybe you'll be using them as fiesta party favor boxes and centerpieces, Felix Navidad gift boxes, Day of the Dead shrine alter nicho ofrenda decor, while keeping your seasonal or secret ofrenda items inside.Halloween Day of the Dead themed loteria card art:My loteria art cards for ofrendas, nichos, DIY gift tags or garlands:If you'd like to make your own, the traditional loteria game with cards:DIY More updated modern version of the loteria game and cards here:Please feel free to ask any questions, request more pics, make an offer, comment, leave feedback, leave info pertaining to this item or just say "hi". Before purchasing please convo with zip code for combined shipping costs and read shop policies. Shipping prices quoted are based on USPS first class shipping with tracking and insurance or 2-3 day flat rate priority shipping with tracking and insurance, the difference will be refunded from the total based on shipping and handling. International shipping and/or insurance available, please contact for more details. Thank you for visiting HoarderRehab's: The Destiny of Things!If there is a story behind the purchase of this item, I'd love to know it! I am collecting these stories, instead of more things, as part of my HoarderRehab therapy and will place it on my blog: The Hoarder Rehab Blog: The Destiny of Things or http://hoarderrehab.blogspot.com/Thank you in advance for your time and story! Enjoy!Read 540+ stories from Etsy buyers helping me with my Hoarder Rehab!http://hoarderrehab.blogspot.com/Join me in my Hoarder Rehab journey and add your story! Thanks to those that have!
shopping_cart Buy Now
ArtNaturals Silymarin Milk Thistle Capsules - (150mg x 200 Softgels) - Concentrated Extract to Support Liver Health, Detox and Cleanse - Herbal Supplement
$14.95
MILK THISTLE WITH SILYMARIN: Pure organic Milk Thistle Extract with active ingredient silymarin in convenient liquid capsules are a natural fit for your diet and lifestyle. Gelatin-free, gluten-free, nut-free and egg-free. SOOTHES INDIGESTION- Promote enzyme formation and increase bile production while soothing your body's mucous membranes. SUPPORTS DIGESTIVE TRACT- Support liver health and boost your liver's filtering of common everyday toxins typically ingested with food. ANTIOXIDANT RICH- Antioxidant flavonoid silymarin in milk thistle liquid optimize health and well-being. TASTELESS & ODORLESS- free from synthetic additives that can leave an unpleasant taste or smell. Convenient quick release soft gel capsule is tasteless and odor free for no hassle and easy use.
shopping_cart Buy Now