Shields Up iPhone 8 Plus Case/iPhone 7 Plus Case,[Detachable] Magnetic Wallet Case,Durable and Slim,Lightweight with Card/Cash Slots,[Vegan Leather] Cover for Apple iPhone 8 Plus/7 Plus -Brown
$13.96
iPhone 8 PlusWallet Case - Brilliant full coverage of premium handcrafted synthetic leather with reinforced stiching to ensure durability and shockproof quality. The inner case is made of precisely formed firm TPU that is comfortable and grippy. \n\n Case for iPhone 7 Plus- HANDS FREE KICKSTAND - Sturdy kickstand function for convenient movie watching or face-timing with friends. iPhone 7 Pluswallet case - WALLET FEATURES - Includes essential slots for your photos, cards, and cash! 3 card slots + 1 cash slot and a strong magnetic closure clip for extra security and hold. Cases iPhone 8: 2-IN-1 DESIGN - Hybrid Flip wallet case style for ultimate convenience. Includes an outer premium leather wallet exterior and a soft TPU interior case. Perfect convertible function for simple removal and kickstand use. iPhone 8 PlusCases: GREAT COMPATIBLITY with popular accessories including magnetic (car) mounts, selfie sticks, and screen protectors.
shopping_cart Buy Now
share Share
Avenir Men's Sweatpants
$70.00
PRODUCT STORY The future of comfort is here. Made with sustainably sourced cotton, with a cozy fit and mesh T7 stripes at the sides, the Avenir Sweatpants will be your new go-to. FEATURES BENEFITS BCI: PUMA partners with Better Cotton Initiativ...
shopping_cart Buy Now
Tangle Teezer Compact Rose Gold
$25.00
The compact Tangle Teezer is perfect to keep in your handbag for those quick hair fixes. In a rose gold compact design, this delivers the perfect finishing touch to any hair. 
shopping_cart Buy Now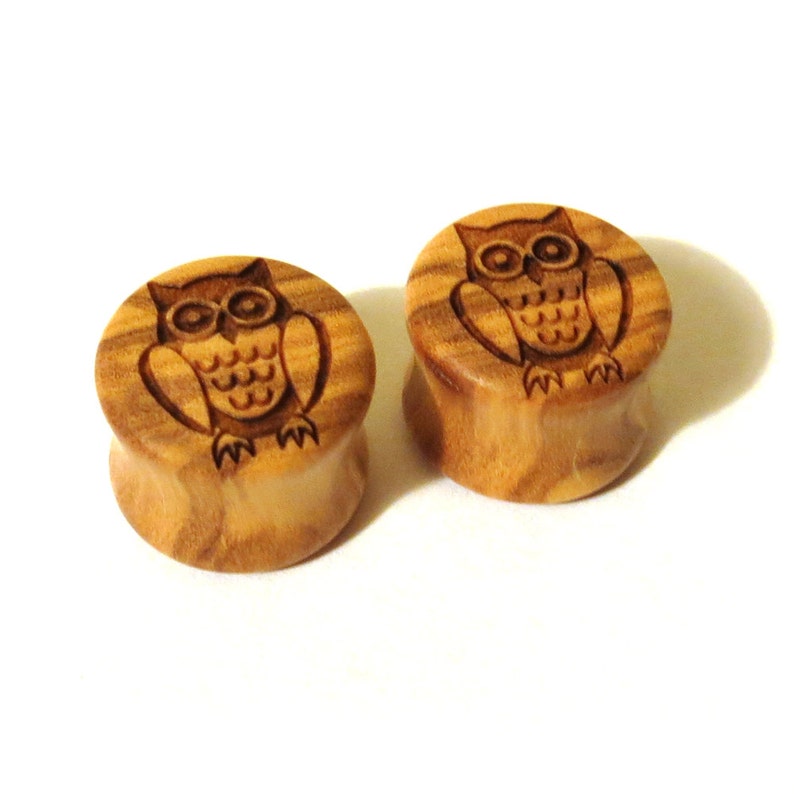 Owl Olivewood Wooden Plugs - PAIR - 2g (6.5mm) 0g (8mm) 00g (9mm) (10mm) 7/16" (11mm) 1/2" 13mm 9/16" 14mm 16mm 19mm and up Wood Ear Gauges
US$ 34.00+
One PAIR of Handmade Wooden PlugsOwl Designon Olivewood Double Flared Graphic PlugsMade-To-Order in any size up to 1 1/2" (38mm)Available in any of the following sizes:2g (6.5mm)0g (8mm)00g (9mm)10 mm7/16" (11mm)12mm1/2" (13mm)9/16" (14mm)5/8" (16mm)11/16" (17.5mm)3/4" (19mm)13/16" (20.5mm)7/8" (22mm)1" (25.5mm)1 1/8" (28mm)1 3/16" (30mm)1 1/4" (32mm)1 1/2" (38mm)Choose any of the sizes listed; just pick your desired size from the drop-down menu above the "Add to Cart" button, or simply leave a "note" when you checkout.Hand turned in Central PA.Finished with carnauba wax, a vegan plant based wax. Provides a nice, smooth shine from a natural, animal free source.The price of this listing is for one pair of handmade wooden plugs.This listing is for double flared plugs only, for healed piercings, inserter assumes all responsibility.**Save on shipping by purchasing additional items from my shop! Pay shipping only for the first pair; All additional items ship free of charge!**To see all of our wooden plugs, click the following link:
shopping_cart Buy Now
Slimmer Trimmer Premium Thigh Trimmers - Pair Weight Loss Sweat Leg Trainers Women Men (Up to 32") Thermal Slimming Wraps. Thigh Fat Burner, Exercise Enhancer Sweating (One Size fits Most (up to 32"))
$17.95
DON'T BE FOOLED BY CHEAP IMITATIONS - Most Thigh Sweat Trimmers and Bands are cheaply made and fall apart within weeks while barely providing the support you need. We GUARANTEE that our Slimmer Trimmer high quality Slimming Thigh Band will not only give you the results you desire - it will also stand the test of time, so you won't have to buy it over and over like you would with others! 100% MONEY BACK GUARANTEE - In the very unlikely event that you do not absolutely LOVE your Slimmer Trimmer Slimming Thigh Wraps, for any reason whatsoever, we'll refund you the full price NO QUESTIONS ASKED. That's how confident we are that you'll be happy with this purchase. FEEL THE BURN and SEE THE RESULTS! Your Slimmer Trimmer Thigh Sweatbands make your exercise more productive by raising your hamstring and quad / quadriceps muscle temperature, making you sweat more, and increasing the number of calories you burn! Slimmer Trimmer gets you DRASTICALLY IMPROVED RESULTS with the SAME EFFORT! SUPERIOR PERFORMANCE from SUPERIOR MATERIALS and DESIGN - Slimmer Trimmer uses top quality anti-slip, latex free neoprene lining that comfortably forms to your exact body shape to maximize perspiration while giving compression support to your inner and outer thigh. Enhanced Performance and Superior Support… that's Slimmer Trimmer! TAKE ACTION AND SEE THE RESULTS! We know it isn't easy to slim down. Our mission at Slimmer Trimmer is to help you lose weight and shape your inner thighs! Use Slimmer Trimmer Thigh Shapers during your normal fitness and exercise routine, or just wear them around the house or while you relax. Either way, you will FEEL the BURN with the help of Slimmer Trimmer!
shopping_cart Buy Now
Avenir Men's Woven Pants
$75.00
PRODUCT STORY Retro meets future in our Avenir Woven Pants. These street-ready pants feature an all-over crinkled look that makes tousled look trendy. DETAILS Regular fitCrinkled fabric effectElastic waistband with external drawcordsDual side zi...
shopping_cart Buy Now
Gold Croc Grab Bag
$32.00
Update your party look with this glam grab bag. Featuring a gold croc fabric with an envelope design and a grab handle, it's perfect for the upcoming season.Approx Height: 15cm/6"Approx Width: 24cm/9.5"Approx Depth: 7cm/3"
shopping_cart Buy Now
Rainbow dream catcher chakra gemstone rear view mirror charm hamsa charm pendant hippie bohemian feather accessory bedroom decor hanging
US$ 22.10
One of a kind handmade dream catcher with natural feathers and gemstones.Metal hoop is wrapped with black suede, woven with black thread anddecorated with natural red coral, carnelian, agate, kyanite, amethyst gemstones, hamsa charm, stainless steel bead, wooden beads and natural feathers. Overall dreamcatcher length is approx. 7.5 inches (19 cm) (measuring from hoop top to tip of feathers)The diameter of the hoop is approx. 2.6 inches (6,7 cm).Hanging string is approx. 9 inches (23 cm) long.
shopping_cart Buy Now
Sports Research Sweet Sweat Premium Waist Trimmer (Pink Logo) for Men & Women ~ Includes Free Sample of Sweet Sweat Gel!
$20.95
GET YOUR SWEAT ON: The Sweet Sweat Waist Trimmer is designed to enhance your workout by helping to improve thermogenic activity and SWEAT! FREE Bonus: Includes breathable carrying bag and a sample of our bestselling Sweet Sweat Gel. Use Sweet Sweat along with the Trimmer to help maximize your results.* CONTOURED & FLEXES FOR CUSTOM FIT: The Sweet Sweat Waist Trimmer is naturally flexible to adjust to your size and shape and contoured to fit around your waist comfortably during exercise. Please note - Waist Trimmer should be worn loose enough to provide a full range of motion during your workouts. PREMIUM QUALITY: Made with extra thick, latex-free Neoprene for an enhanced sweating experience. But don't worry about the extra Sweat, our Waist Trimmer's grid inner lining will not only repel moisture absorption but also limit slipping and bunching during your workout. NOTE: Our Waist Trimmers run LARGE. Please order a size down if you are unsure of what size to order.
shopping_cart Buy Now