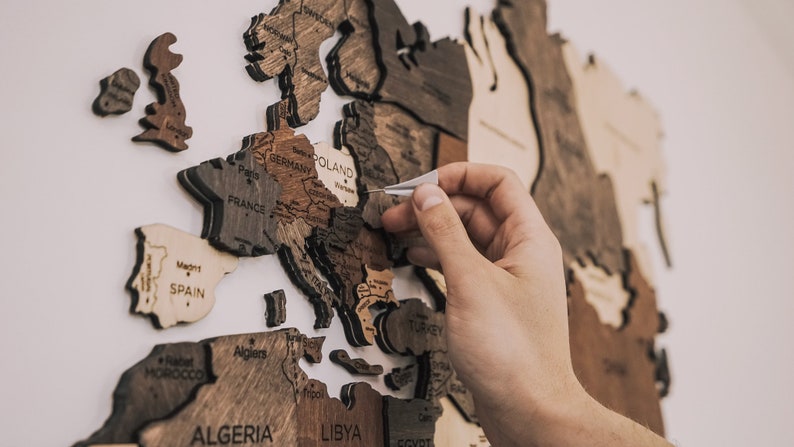 Wall Wooden Map of the World Map Travel Push Pin Map Rustic Home Wood Wall Art 5th Anniversary Gift for Husband Boyfriend Wall Art Decor
US$ 136.00+
Wall Wooden Map of the World Map Travel Push Pin Map Rustic Home Wood Wall Art 5th Anniversary Gift for Husband Boyfriend Wall Art Decor-----------------------------------------------------------------------------------------------Welcome to EnjoyTheWood!Our 3D wooden wall world map creates a 3D effect due to its unique raised areas, anywhere from 6 mm to 18 mm. Featuring over six contrasting shades of wood, it is one of our most stylish wall maps! It makes a very cool gift for family, friends, coworkers or yourself to mark your travels. Plus, it is a great way to accentuate a focal wall in any room. ? It's time to make changes! ?NEW! Order flags push pins to mark your travels!Renovate your home, office and business place with the best choice of wall decor. This world map is eco-friendly and will last a lifetime. People will be staring at it for hours! It will be your decor, it will be your motivation to travel and it will be your pride.It is, beyond dispute, the best gift for all occasions.??????????????????????????????Please NOTICE that due to big dimensions of the package you will pay customs and import taxes. The amount of taxes depends on your country's laws. We are not responsible for them.You can check the customs fee on the linkhttps://www.simplyduty.com/#calcFeatures:? We have legal patent? First-ever wooden world map was created by our team? We made our original design of wooden world map for ourselves, being very attentive to quality and the outstanding look. Our maps decorate our house and homes of so many people, that's why we are confident in your happiness!? Our maps were successfully funded on Kickstarter twice? The highest quality!? Professionally made by craftsmen from birch plywood.? From 6 to 12 mm thick (0.23 - 0.47 inches) ? Featuring over six contrasting shades of wood, it is one of our most stylish wall maps. Please notice that color can be a little bit different in real life because it is made of natural wood, which has its own shade.? FREE GIFT! With the map, you will receive wooden boats, planes, and a compass.? Installation can take about an hour and is a great way to spend time with family or friends.? Comes with special double-sided sticky tape, that you must put on the map and which will not ruin your walls (if removed properly).? SPECIAL mark can be put anywhere on the map for free!? Due to the size some countries and islands are omitted on the map, so it is not geographical. Let us know if you'd like to add an island to it!? Each map comes gift-wrapped.? Language can be customized for you, just contact us if you need other languages.??????????????????????????????Mark your Travels with push pins (see pic.4) Choose if you want AIRPLANE or FLAGS push pins to mark places you have traveled to or dreaming about! In drop-menu you will find options: 30 p - 30 metal airplane push pins 60 p - 60 metal airplane push pins Flags - 194 countries' flags will come in a boxIf you need more airplane push pins, add them to cart here:Link ??????????????????????????????Size:? M - 100 cm x 60 cm (39"x24")? L - 150 cm x 90 cm (59"x35")? XL - 200 cm x 120 cm (79"x47")? XXL - 300 cm x 175 cm (118"x69'')??????????????????????????????ENGRAVING:? Map with country names and borderlines - Standard? Standard map + states names of USA, Canada, Australia, and Russia - Stndrd+States? Standard map + states names of USA, Canada, Australia, and Russia + capitals of countries - Full Pack??????????????????????????????GET 15% OFF!Simply by signing up for our newsletter. Just go to http://eepurl.com/dvdeXf and we will send you a 15% off coupon code off your first order.???????????????????????????????QUESTIONS ?Don't hesitate to ask us any question, we will do everything possible to get back to you right away.??????????????????????????????? PREPARATION & SHIPPING TIME FRAMES ?It takes 2-5 business days to produce your order and ship it. Please, check our shop main page to see estimated delivery time to your country.? FAST DELIVERY ?You may order an item to be shipped with UPS Express Service. Such delivery will take 4-6 business days and will cost a little more (depends on an item).Message us if you are in rush and we will do everything to deliver in time!PACKAGE WEIGHT AND DIMENSIONSAll pieces of the map are packed in polystyrene and also in gift wrapping so you don't have to think about it.XXL - 92x66x20 cm (36x26x8 in), 24 kg (53 lb)XL – 68x52x15 cm (27x20.5x5.9 in), 11 kg (15.5 lb) L – 53x42x16 cm (21x16.5x6.3 in), 7 kg (8.8 lb) M – 53x32x11 cm (21x12.6x4.3 in), 4 kg (4.5 lb)Please NOTICE that due to big dimensions of the package you may pay customs and import taxes. The amount of taxes depends on your country's laws. We are not responsible for them.OUR 1 1/2 MINUTE VIDEO SHOWS EXACTLY WHAT YOU GET:https://www.youtube.com/watch?v=DKjJKKEfbb0INSTALLATION VIDEO:https://www.youtube.com/watch?v=90oTiAen4wwJOIN US ON SOCIAL MEDIA? Pinterest https://www.pinterest.com/EnjoyTheWood/? Facebook https://www.facebook.com/ETWWorldWide? Instagram https://www.instagram.com/_enjoythewood_/----------------------------------------------------------------------------------------------? We take full responsibility for our products, shipping & delivery. And in case of DAMAGE during delivery or loss, we will gladly send you new product. So there are no reasons to be worried (smiley)? Our products are of the high quality. We enjoy the process of making wooden things, so we are very attentive to each step of production.----------------------------------------------------------------------------------------------? Thanks for shopping at EnjoyTheWood!
shopping_cart Buy Now
share Share
Essentials+ Men's Fleece Hoodie
$45.00
PRODUCT STORYSport your PUMA pride in our Essentials Fleece Hoodie, featuring a lined hood and regular fit for the reliable comfort you know and trust from PUMA.FEATURES + BENEFITSBCI: PUMA partners with Better Cotton Initiative to improve cotton ...
shopping_cart Buy Now
Black Plain Cap
$12.00
This plain cap is perfect for those bad hair, chilled off-duty days, we are obsessed. Team this with a hoodie and cycling shorts for a look we are loving.
shopping_cart Buy Now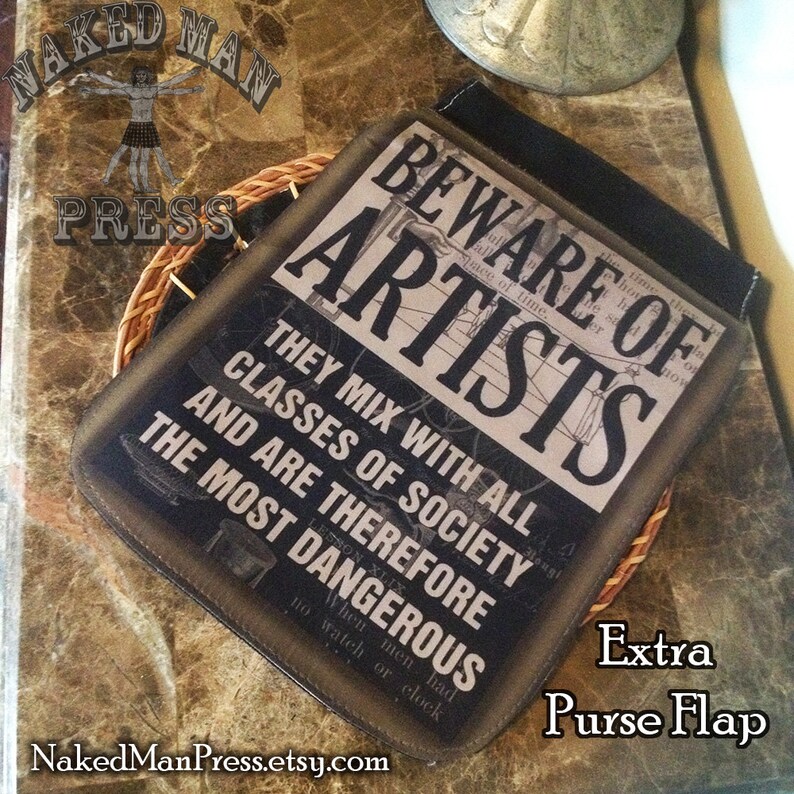 Beware of Artists, EXTRA FLAP For Small Shoulder Bag
US$ 14.00
This listing is NOT for a purse, this is only for an extra flap to go with our changeable art Small Hand Bags! Our purses all come with one cool looking purse flap, but that front flap is removable! If you want to have a purse that can change it's look with ease, you can order extra purse flaps and change them at a whim. Hey, it's much easier that switching your whole purse!You can get extra flaps of your choice with different art and change the front flap depending on your mood, season, or outfit! We hand press these flaps in our studio just for you. Change from gypsy boho chic to heavy metal and anywhere in between. The flap is 7.375" x 8.75" and is attached firmly to the purse with Velcro, and easily changed. The fabric purse flap can be cleaned with a baby wipe.Click here for details on our purses: Created for you by Naked Man Press designer Mayhem Mickie
shopping_cart Buy Now
Alberto VO5 Conditioning Hairdressing, Normal/Dry Hair, 1.5-Ounces (Pack of 6)
$25.64
VO5 Conditioning Hairdressing 1 1/2 Ounce Tube
shopping_cart Buy Now
Essentials+ Men's Hoodie
$45.00
PRODUCT STORY Elevate your streetwear from casual to cool in this far-from-basic, retro-inspired hoodie, which features sleek lines, bold PUMA branding and a comfortable fit. FEATURES BENEFITS BCI: PUMA partners with Better Cotton Initiative to...
shopping_cart Buy Now
Black Embroidered Mesh Sleeve Knitted Dress
$50.00
Amp up your little black dress collection with this dreamy dress doll. Featuring a black knitted material with long embroidered mesh sleeves and a figure-flattering fit, we are obsessed. Team this with a pair of heeled boots to complete the look.
shopping_cart Buy Now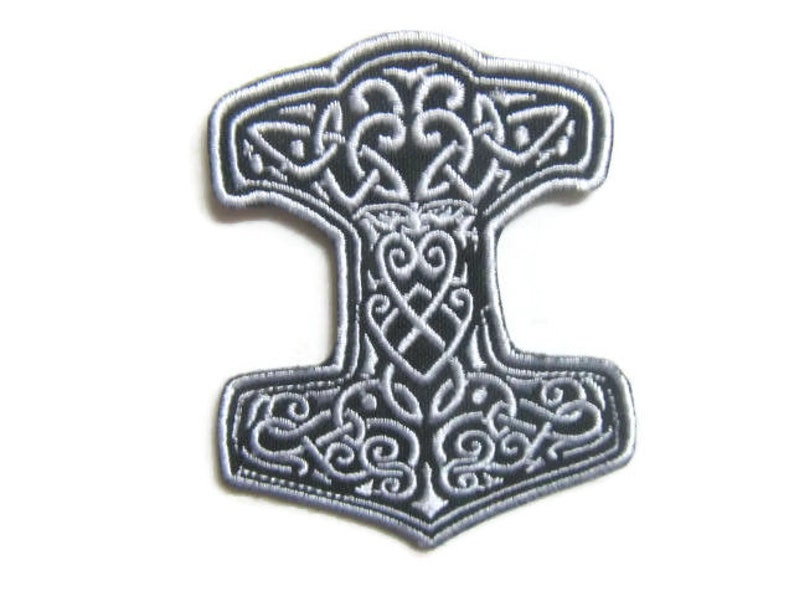 Celtic
US$ 5.74
Celtic - Iron on patchCeltic – Embroidered Iron on patchThis is from our Standard patch range and is $7.99 AUD.Oh, the irony posts all patches next business day from Australia.*** Buy 3 patches or more and receive 15% discount ***They do not have to be the same patch, have a look around our shop… mix and match and buy more than three (3) to receive 15% off.Iron on embroidered patches from Oh, the irony are a simple and fun option to personalise jackets, hats and clothing.Oh, the irony is based in Redhead, NSW Australia and we offer customised patch manufacturing (minimum quantities apply) and sell a range of ready-made fun patches.Every patch has been designed by us (or if an existing image selected by us) and made either here in Australia or by our production partners in Shenzhen, China or Taipei, Taiwan.Each patch is personally quality checked by us in Australia before postage.All our standard patches sold via Etsy are $7.99 AUD each.Premium patches are $9.99 AUD each and Gold patches $13.99 eachStandard postage is FREE !Delivery times… if you live in Australia your patch will take between 5 - 12 business days to arrive.Australian customers, your patch will be sent as a domestic letter with tracking.If you live in New Zealand, the United States and Western Europe, your patch will take between 10 - 17 business days to arrive.If you live elsewhere in the world your patch could take in excess of 30 business days to arrive and we reserve the right with certain countries (due to unreliable postal services) to insist on an upgrade to registered postage.International customers - Please take note that unless a postage upgrade is selected that your patch will be sent as an international letter. These are not parcels and DO NOT have tracking numbers.There are postage upgrades available at checkout for registered mail, tracking and expedited priority.Please check the address that you have entered into ETSY… virtually all delays and lost items can be attributed to an error by the customer in the address field.We love our US customers, however the USPS is really very strict, much more so than other postal services. We receive many items returned each month marked as undeliverable or unknown so please check your entered address.Please read our policies and FAQ page regarding lost and returned orders as they form part of our conditions of sale.
shopping_cart Buy Now
Alberto VO5 Conditioning Hairdressing, Normal/Dry Hair, 1.5 oz (42.5 g)
$6.50
VO5 Conditioning Hairdressing 1 1/2 Ounce Tube
shopping_cart Buy Now